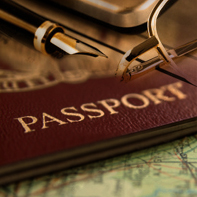 Destiny is not a matter of chance, it is a matter of choice
Nicosia, Cyprus (PRWEB) March 05, 2015
Fast Track to Europe
Since March 2014, the Council of Ministers modified the criteria and conditions for acquiring citizenship by investing in Cyprus, making it easier and quicker for foreign investors and their family members to acquire Cypriot nationality.
This is an attractive package as Cypriot nationality has many advantages, most importantly free movement within the EU area.
Investment can be a direct financial investment of more than €5 mil either in government bonds or financial assets or investment in real estate and land development or purchase /participation /creation of Cypriot businesses / companies or deposits in Cypriot Banks or a combination of the above. The application can also be made by a person who has suffered losses by the haircut imposed on Laiki Bank amounting to at least €3 mil. There is also discretion to reduce the investment amount to €2,5 mil for investors who participate in a collective investment scheme, provided that the total value of the investment scheme is at least €12,5 mil. (Read more: http://www.servpro.com.cy/other-juristictions/cyprus/cyprus-citizenship/ )
Thinking of moving to Cyprus?
Cyprus offers third country nationals long term and even permanent residency permits in Cyprus on the basis of their work, education, vocational training and more popularly on the basis of acquiring a property in Cyprus.
According to Eurostat Cyprus ranks 2nd in the EU in issuing residency permits as a percentage per 1,000 people, ranking higher than the UK and Sweden. In 2013 alone, 1798 permits were given to Russian nationals.
The Category F residency permit is increasingly popular amongst third country nationals who buy holiday propriety in Cyprus and wish to take advantage of their investment because the residency permits allow third country nationals to easily travel to Cyprus without the need of a VISA. One of requirement of obtaining such a permit is that the applicants must be financially capable of sustaining themselves without having to work in Cyprus, however, applicants are entitled to own a company in Cyprus and receive dividends from its profits. Permanent residency permits will also be granted to the spouse of the applicant and any dependable children. (Read more: http://www.servpro.com.cy/other-juristictions/cyprus/cyprus-residency/ )
Third country nationals will also take full advantage of the free movement within the Schengen area once Cyprus becomes a member.
About ServPRO
ServPRO is a well established firm of accountants, advocates and business consultants which was formed for the purpose of assisting clients in setting up sturdy business foundations capable of withstanding any challenges and successfully lead the business into the demanding future. The team's qualified professionals have the necessary local and international expertise to provide clients with a comprehensive range of high quality service that exceed expectations. (Read more: http://www.servpro.com.cy/about-us/ )