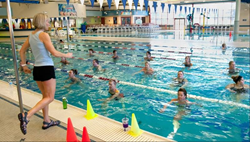 Oak Brook, IL (PRWEB) March 06, 2015
Fluid Running® Owner, Jennifer Conroyd, an Ironman triathlete and 15-time Boston Marathon qualifier, developed the Fluid Running® method 3 years ago when she became injured just weeks before the Chicago marathon. She hit upon the trifecta of combining matched-bpm music, the social atmosphere of a group run, and a maximum-resistance, deep water running technique. She not only completed her marathon, but created a unique no-impact, deep water running workout that made the experience both enjoyable and a high-octane fat-burner.
At the National Training Center at Oak Brook Park District Aquatics Center in Oak Brook, Illinois, a suburb of Chicago, Fluid Running® classes fill up as soon as they are posted. Patrons rave about the class because of the unexpected side effect: immediate fat loss and muscle shaping.
"I originally created Fluid Running® to replicate the biomechanics of running in the deep water for injured runners—and to make the deep water running experience fun and invigorating, not like a boring rehab therapy session," says Fluid Running®, LLC Founder, Jennifer Conroyd. "Because the Fluid Running® Method combines high-intensity intervals and full-body resistance training, it also turned out to be a powerful weight-loss and body sculpting fitness program!"
Elite runners, high-school athletes, Moms getting back in shape, injured runners, and beginners all work out side-by-side and can go at their own pace. Without the impact, injuries can both heal and be avoided. And the additional core work and upper body training built into the workout means a stronger, more stable body overall without any additional workout time.
Sinead St. John Thornton, a San Diego Track Club masters runner and RRCA-certified running coach, became the first certified Fluid Running® Instructor in southern California last year, and has been running a pilot program at Alga Norte Aquatics Center in Carlsbad, CA. "I turned to deep water running while battling an Achilles injury, but the Fluid Running® method is unique. It enables anyone--even non-runners-- to do a sprint workout and get, not only the cardio and fat-burning benefits of speed work, but full-body muscle carving as well. You can't beat the efficiency."
One of Sinead's clients, Berean Haddan, says, "It's such an intense workout--I've lost 25 lbs. since I started Fluid Running® 3 months ago. But I never feel sore afterwards and it's so fun, it's addicting."
For more information on becoming a certified Fluid Running® instructor, see http://www.fluidrunning.com/certification
About Fluid Running, LLC
Fluid Running®, LLC trains instructors to teach private and group deep water running workouts using the Fluid Running® method and offers clinics for health care, wellness, and fitness professionals as well as athletic trainers and coaches.
More information about Fluid Running®, LLC's upcoming certification workshops, where to find a local instructor, as well as photos and videos can be found by visiting http://www.fluidrunning.com/ and following us on Twitter @fluidrunning.
###