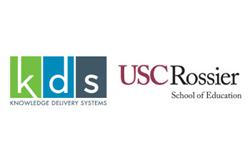 "The racial and language achievement gap is real and the numbers are ugly. Most professional development systems don't have the bandwidth to bring teachers up to speed on equity issues," Alvin Crawford, CEO of KDS.
New York, NY (PRWEB) March 05, 2015
Knowledge Delivery Systems (KDS), a leading provider of strategic and blended professional learning solutions for states and school districts in collaboration with the Rossier School of Education at the University of Southern California, has announced today that it is offering a comprehensive course that provides practical strategies for differentiating instruction to support English Learners (ELs) to allow them the meet rigorous College-and-Career-Ready-Standards (CCRS).
The National Center for Education reports that in 2011-2012 there was 9.1% or 4.4 million English Learners (ELs) in U.S. schools, which is an increase of .4% from the decade prior. Educating these students presents a challenge to teachers unfamiliar with addressing their unique needs.
To address this problem and as part of the groundbreaking USC/KDS Equity Educator Certificate Program, the first of four courses, "Pedagogical Strategies for English Learners," is designed specifically for K-12 teachers who want to gain the knowledge and skills to support English learners.
In this program, teachers will learn how differentiated instruction, scaffolding strategies and creating a language rich learning environment help schools close the achievement gap and ensure that all students – regardless of race or language –achieve their potential and graduate college and career ready.
Dr. Eugenia Mora-Flores, Chair of the Master of Arts in Teaching governance committee and prominent Professor of Clinical Education in the Rossier School of Education at USC, has authored this 45-hour USC Rossier-designed course.
Through this course, teachers will explore the role of language in literacy development and academic achievement by deconstructing language demands and creating an Academic Language Bank. They will demonstrate pedagogical practices to guide English learners to think about content in critical and creative ways and employ multiple strategies for scaffolding thinking and apply knowledge and language about ELs to make informed instructional decisions to enhance learning.
"The racial and language achievement gap is real and the numbers are ugly. Most professional development systems don't have the bandwidth to bring teachers up to speed on equity issues," Alvin Crawford, CEO of KDS. "This first course originating from our new partnership with USC Rossier helps to prepare teachers to positively impact academic growth and the success of all students regardless of their race or language competencies."
"Our steadfast mission to consider every student's academic needs is exemplified through this critical course designed to guide and support teachers of English Learners," said USC Rossier Dean Karen Symms Gallagher. "Through this trailblazing partnership with KDS, we are advancing learning in urban education so that English Learners around the nation are not neglected in the classroom."
About Knowledge Delivery Systems
Knowledge Delivery Systems (KDS) is the leading provider of research-based, blended-model strategic professional development solutions for districts, schools, and teachers. KDS was founded nearly 15 years ago to help school districts and states transform professional development to dramatically improve teacher effectiveness and raise student achievement. KDS builds district-wide system solutions and high quality online courses that are developed with the nation's leading education experts and researchers to address educators' most important challenges in the classroom. Today these courses are delivered through KDS' Professional Learning Platform (PLP), which leverages the best of learning communities to make educator learning engaging, convenient and social. For more information, visit: http://www.kdsi.org
About USC Rossier School of Education
The USC Rossier School of Education (ross-EAR) leads the way in innovative collaborative solutions to improve education outcomes. The work of faculty, students and staff is field-based, in the classroom, and online, and reflects a diversity of perspectives and experiences. Rossier is committed to innovation in all programs, as well as preparing teachers, administrators, and educational leaders to serve as change agents. The School supports the most forward-thinking scholars and researchers whose work is having direct impact on student success in K-12 schools and higher education. The Rossier School of Education is part of The University of Southern California, one of the world's leading private research universities, located in the heart of Los Angeles. (rossier.usc.edu)
Media Contact:
Alyssa Miller
alyssa(at)ammediaworks(dot)com
973.615.1292