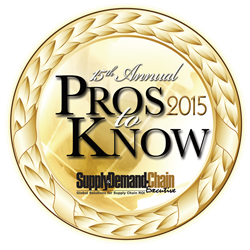 "The complexities facing our customers and the challenges facing supply chain professionals have never been greater. What a great time to be in this field and to be recognized with these other outstanding contributors." – Dave Rhodes, Director
Venice, FL (PRWEB) March 05, 2015
Supply & Demand Chain Executive Magazine has officially released their 15th annual listing of "Pros to Know" in the supply chain industry, and we are excited to announce that two members of MEBC's leadership team were included on this year's list! Russ King and Dave Rhodes were nominated and received this award due to their hard work, their commitment to excellence, and their use of innovative methods for meeting and resolving client needs and challenges.
Russ and Dave serve as the chief architects of MEBC's innovative and award-winning methodology, the MEB Toolkit™ and Agile Deployment Methodology. They led a Team of fellow MEBC employees to develop this unique approach, which utilizes packaged playbooks and toolsets to reduce project costs while quickly delivering optimized supply chain planning solutions powered by JDA Software technology. Since approximately 2011 when the Toolkit and Agile Deployment Methodology was developed, multiple MEBC clients have derived significant value from this approach. In fact, many of these clients offer references for new clients based on this unique method for implementing supply chain planning processes and technologies. The Toolkit and approach continues to be refined and matured as the methodology is expanded across multiple client types and industry segments.
MEBC was approached by JDA Software in 2014 to become their North American reseller for supply chain planning solutions. One contributing factor to beginning this discussion was the recognition that MEBC gained from the unique approach to delivering services that was designed by Russ, Dave, and the MEBC Team. JDA recognized the value of this methodology for supply chain planning projects to reduce cost and quickly deliver value to companies of all sizes and industry types. Russ and Dave, as well as the entire MEBC team, are proud of this achievement and to be part of Supply & Demand Chain Executive Magazine's "Pros to Know" listing for 2015. We are honored to receive this recognition and, as we look towards the future, we are excited to see even more innovative and advanced contributions to the supply chain planning industry from Russ, Dave, and the entire MEBC Team. See the entire award announcement on Supply & Demand Chain Executive Magazine's website here.
About MEBC
MEBC is an ESOP company of Supply Chain Thought Leaders and Technologists who align People | Process | Technology to drive our clients success. MEBC's employee-consultants bring practical knowledge of end-to-end supply chain processes with deep technical expertise in the SCM and ERP technologies that support them. MEBC has addressed the Supply Chain challenges of global Fortune 1000 and high-growth SMB companies along with Federal agencies. MEBC is also a premier JDA Software Alliance Partner – having received our third consecutive award from JDA for our innovation, technical expertise, and client services excellence.
MEBC. Supply Chain Advantage. DELIVERED.
To learn more, visit http://www.mebcglobal.com.