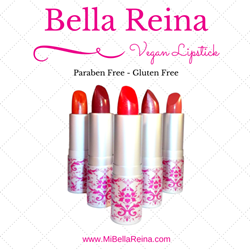 vegan lipsticks to explode with color but be safe
Delray Beach, FL (PRWEB) April 07, 2015
Bella Reina, a spa and cosmetic products manufacturer from Florida, is known for its line of makeup made with the use of carefully selected natural, vegan and organic ingredients. As part of its growing collection, they have recently introduced vegan lipstick to raving fans. The combination of the retro case, the trademark pink "V" and the outstanding pucker ability has the company scrambling to fill backorders.
What It Does
The vegan lipstick from Bella Reina will add a spark of lip color that will delight makeup aficionados. The pure mineral pigments used will not only make lips explode with color but will also provide moisturizing and softness. It also offers UV protection to protect the lips from the heat of the sun when outdoors.
What Makes It Different
This lipsticks are 100% vegan, which is the biggest factor that differentiates it from the other alternatives in the marketplace. In addition, they are Paraben-Free, Gluten-Free, Chemical-Free and Petroleum-Free, Bee-Free and Cruelty-free. As opposed to other lipsticks that are made with toxic chemicals, the Bella Reina lipstick uses organic grapeseed and jojoba oil, organic shea butter, botanical extracts, and Vitamin E. Vegan lipstick is rarely offered by other manufacturers of cosmetic products in the market. Surprisingly, there are explosive colors that will give lips a dazzling appearance.
Nancy Reagan, the founder of Reina Bella, says, "Our clients trust our advice and recommendations, so our priority was developing products that matched our clients' needs and enhanced their natural beauty. We wanted the vegan lipsticks to explode with color, but be safe for our clients."
This shows the commitment Bella Reina has towards offering products that provide the highest level of satisfaction while carefully paying attention to the use of the right ingredients; especially those that will be able to deliver aesthetic benefits without being harsh.
To know more about the Bella Reina Vegan Lipstick and other organic cosmetics, visit the website at http://www.mibellareina.com/.
About Bella Reina
As an online and beauty health store, Bella Reina is a leading company in Delray Beach, Florida that is known for selling vegan cosmetics from lipsticks to makeup removers. The brand has been featured in numerous publications, including the New York Times. Aside from offering cosmetics, they also have a spa where clients can enjoy a wide array of spa services delivered by a high qualified team.