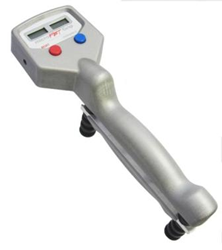 Salt Lake City,Utah (PRWEB) March 05, 2015
Hoggan Scientific, a company that manufactures microFET medical dynamometers, ergoFET physical therapy, ergonomic force gauges, and ergoPAK data acquisition systems with sensors for ergonomics, engineering, and research applications, introduced the all new microFET Digital Handgrip Dynamometer, available at http://www.HogganHealth.net. The new electronic microFET Handgrip was designed to offer healthcare professionals a handgrip muscle strength testing device that is lightweight and budget-friendly.
The new microFET Handgrip was recently shown at the APTA CSM Physical Therapy Conference earlier this month in Indianapolis, IN, receiving positive reviews by attendees. Attendees who tested the microFET handGRIP appreciated the light weight feel of the device, its digital readout, and Bluetooth wireless technology that offers flexibility to use with available software.
"HOGGAN Scientific was pleased to introduce this innovative solution to more than 9,000 physical therapy professionals at the APTA Combined Sections Meeting," commented Cynthia McKenna, Director of Sales. "The introduction of the new Wireless microFET handGRIP Dynamometer is an exciting addition to our already well-known and researched line of diagnostic tools."
The digital microFET handGRIP gives accurate grip strength readings, features a durable lightweight molded body, and utilizes precision electronic load cells to eliminate the possibility of oil leakage that can sometimes occur with hydraulic units. The device features an easy-to-read digital display, strength force readings can be viewed in pounds, newtons or kgf., and REG or Rapid Exchange Grip tests can be performed. The handGRIP is incorporated with Bluetooth wireless to utilize the device for use with either Hoggan clinical software or data collection research software.
Hoggan is offering APTA CSM post show limited time special pricing on the new microFET handGRIP for orders placed by March 31, 2015, and on any of the other microFET or ergoFET products also available. To take advantage of special show pricing or to request information, please visit http://www.HogganHealth.net or call 1-800-678-7888/801-572-6500 to speak directly with a customer service representative. The manufacturer can also be found on Facebook at http://www.facebook.com/HogganScientific.