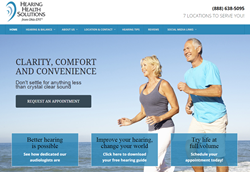 Hearing loss is the third most common physical condition after arthritis and heart disease.
Columbus, OH (PRWEB) March 04, 2015
Hearing Health Solutions, a full-service audiology practice with seven locations in Ohio, is proud to announce the launch of its new website, http://www.hearinghealthsolutions.com.
The improved website will make it easier for patients to learn about hearing loss, review hearing aid options, and schedule an appointment with a simplified online form. The website also provides information on what to expect from hearing tests and offers a free hearing aid comparison guide — presented in a consumer-friendly, easy-to-read format.
In the guide, people can learn all about hearing aid styles, features, prices, batteries, accessories, and the method of determining the right hearing aid based on needs and lifestyle considerations. The guide, along with the website, provides the patient with all of the information and facts they'll need for a productive and stress-free first visit, including tips on how to prepare for the appointment, what to expect from testing, how hearing aids are fitted, and what to expect from follow-up care.
As reported by the Hearing Loss Association of America, hearing loss is a major public health concern that is the third most common physical condition after arthritis and heart disease. One of the principal goals of the new website is to build awareness of this serious public health issue, and to provide useful information to patients to make their hearing appointments as productive as possible.
In addition, the website features a blog on hearing tips, offering expert articles on all-things hearing, as well as a link to Hearing Health Solutions' Facebook page, which provides additional fun and informative content.
About Hearing Health Solutions
Hearing Health Solutions is a full-service audiology practice located in Ohio, with seven locations in Columbus, Delaware, Dublin, Westerville, and London. Equipped with state-of-the-art technology and compassionate staff, Hearing Health Solutions offers comprehensive services including hearing tests, hearing aid evaluations, custom hearing aid fittings, hearing aid cleanings, rehabilitative counseling, preventive care advice, and service and repair for all hearing aid models. With services delivered in a relaxed and comfortable atmosphere, Hearing Health Solutions is Ohio's leading destination for better hearing.
Contact:
Jim Barlow
Hearing Health Solutions
(888) 638-5095
http://www.hearinghealthsolutions.com
Seven Ohio locations:
Hearing Health Solutions
974 Bethel Rd. Suite B
Columbus, OH 43214
614-335-4127
Hearing Health Solutions
4300 Clime Rd.
Columbus, OH 43228
614-335-4301
Hearing Health Solutions
6499 East Broad St.
Columbus, OH 43213
614-335-4098
Hearing Health Solutions
801 Ohio Health Blvd. Suite 220
Delaware, OH 43015
614-335-4387
Hearing Health Solutions
6670 Perimeter Dr. Suite 120
Dublin, OH 43016
614-335-4101
Hearing Health Solutions
194 Elm St,
London, OH 43140
614-349-3715
Hearing Health Solutions
477 Cooper Rd. Suite 480
Westerville, OH 43081
614-335-4302