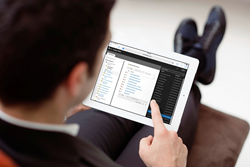 "When sharing hundreds or thousands of documents with a large group of people, View As makes it easy to move through complex secure document sharing processes knowing all documents will only be seen by participants who are supposed to see them." says Joel
Toronto, ON (PRWEB) March 09, 2015
Firmex is pleased to announce View As, a new feature that allows the administrator of a virtual data room (VDR) to view the room's security settings from the perspective of each user. View As gives administrators extra assurance that users can only access the documents they are supposed to see, allowing for greater peace of mind as buyers and sellers move through the deal process.
Deals between companies have complex information sharing requirements, where certain people can only see certain documents and folders. One mistake can delay or derail a deal, cause the leak of sensitive or confidential information, and even lead to litigation. Firmex's View As helps fix this problem by giving the administrator a simple and intuitive way of making sure all security parameters are properly in place.
With a single click, a VDR administrator can see exactly what each member of the buy and sell side teams see when they access the data room and test each user's customized access settings. Firmex's extensive and intuitive security options allow the administrator to tailor the settings for each document and user, letting some users see certain documents but not others, limiting the amount of time documents are available for viewing, blocking users from printing or taking screen shots, and much more. With View As, an administrator can more easily control and organize the deal process and move ahead with confidence that all information will make it to the right people.
"When sharing hundreds or thousands of documents with a large group of people, View As makes it easy to move through complex secure document sharing processes knowing all documents will only be seen by participants who are supposed to see them," says Joel Lessem, CEO of Firmex. "Everyone wants complete peace of mind when managing deals, and this is a leap forward."
View As is just the latest tool that Firmex offers for its data rooms to make the secure document sharing even easier, more organized, and more successful for all parties.
Hundreds of thousands of deal professionals open over 10,000 new data rooms with Firmex every year to securely share their highly confidential documents. Firmex virtual data rooms are easy to setup and use, and their innovative features and customizable security options ensure an outstanding user experience. Firmex data rooms come with come with the full support of Firmex's award-winning customer service team. Whether looking to acquire or sell a company, raise funds, complete a financial audit, share intellectual property or manage compliance documents, Firmex allows professionals in M&A, investment banking, private equity, legal, and many more industries to securely share the right information with the right people anytime.
For further media inquiries, contact Mark Wright, VP Marketing, at mwright(at)firmex(dot)com.