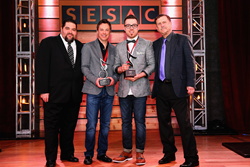 NASHVILLE (PRWEB) March 04, 2015
SETH MOSLEY RECEIVES SESAC CHRISTIAN MUSIC AWARDS TOP HONORS CentricSongs Wins Publisher Of The Year Award
SESAC, the nation's most progressive performing rights organization, named Christian songwriter/producer Seth Mosley as SESAC's Christian Songwriter of the Year at ceremonies held today at the chic City Winery in Nashville. CentricSongs was named SESAC's Christian Publishers of the Year. The awards recognize activity for songwriters and publishers in 2014.
Veteran Christian music songwriters Natalie Grant, Plumb, Jamie Grace, Ian Eskelin and Jason Ingram, as well as others, were among the SESAC award winners recognized during the event.
Mosley, a prolific songwriter and popular producer, took home an impressive 12 performance awards for songs "All Things Possible" by Mikeschair, "Fighter" by Manafest and "Outta My Mind" by Anthem Light, and others.
Stunning performances were offered by Francesca Battistelli, the band Unspoken and Seventh Time Down.
More than 30 songs were acknowledged at the awards dinner which was hosted by SESAC's Tim Fink and John Mullins.
For a complete list of honorees, go to http://www.sesac.com.
Established in 1930, SESAC is a service organization created to assist both the creators of music and music users through timely, efficient royalty collection and music licensing. The second oldest and most progressive rights organization in the U.S., SESAC maintains a diversified repertory that includes the best of Adult Contemporary, Urban, Jazz, Rock, Americana, Contemporary Christian, Latin, Country, Gospel, Dance, Classical, New Age, and music for Film and Television. Headquartered in Nashville, the company also has offices in New York, Los Angeles, Atlanta, Miami and London (http://www.sesac.com).
Pictured (left to right): SESAC's Tim Fink, Steve Rice of CentricSongs, Seth Mosley and SESAC's John Mullins.