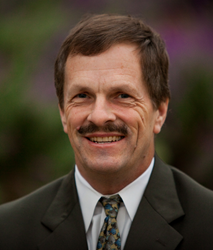 As a clinician, scientist and inventor, I just think it would be very cool to prove that the same contact lens, prescribed a bit differently, could either cause a myopic eye to slow its growth or could encourage a shorter, hyperopic eye to grow longer.
(PRWEB) March 18, 2015
Internationally known optometrist and vision researcher Dr. Thomas Aller is proud to announce a new clinical trial of a contact lens for treating hyperopia in children. Dr. Aller is now recruiting 20-40 subjects, ages 5 to 12 who have moderate to high levels of hyperopia. The study will seek to establish that hyperopia can be reduced through the use of soft contact lenses with specialized optical designs.
Myopia, also known as nearsightedness, results when either the eye is too long or the power of the eye is too strong, resulting in blurred distance vision. Hyperopia, or farsightedness, on the other hand, results when the eye is too short or the eye's power is too weak, causing blurred or uncomfortable vision at near distances.
Dr. Thomas Aller has been researching the use of bifocal and multifocal contact lenses for the treatment of progressive myopia in children for over twenty years. Dr. Aller presented the results of his randomized controlled clinical trial at the recent American Academy of Optometry annual meeting in Denver, CO. The control study, currently in prep, showed that certain types of bifocal soft contact lenses reduced myopia progression and axial elongation in children and adolescents by over 80% as compared to standard single vision contact lenses.
While it is yet to be proven what precise mechanisms are behind the myopia control found with bifocal contact lenses, it is commonly argued by researchers that it relates to the reduction in blurred vision in the periphery that is typically found in people with myopia, particularly when their vision is corrected by conventional glasses or contact lenses.
"As a clinician, scientist and inventor, I just think it would be very cool to prove that the same contact lens, prescribed a bit differently, could either cause a myopic eye to slow its excessive growth or could encourage a shorter, hyperopic eye to grow to a more normal size," says Dr. Aller.
In over twenty cases of adults trying such lenses, Dr. Aller found little to no effect.
"This may have to do with the fact that adults with hyperopia have very stable prescriptions and very stable eye length," says Dr. Aller. There have, however, been some intriguing results with children, enough so to prompt this new clinical trial.
In a poster presented at the 13th International Myopia Conference in Tübingen Germany, Dr. Aller reported results from a two year contact lens treatment of a 10 year old girl with stable high amounts of hyperopia. While it is quite rare for a spontaneous improvement of stable hyperopia to occur in a ten year old, this patient ended up reducing her hyperopia to near normal levels. She then discontinued the treatment lens and has been stable ever since with no correction.
The treatment was next tested in a randomized, double masked trial in a pair of identical twin boys with high levels of hyperopia and astigmatism. As reported in a poster in 2013 at the 14th International Myopia Conference in Monterey, California, there was a marked reduction in hyperopia in the twin that was assigned the hyperopia treatment lens.
Based on these results, a double-masked, randomized, prospective clinical trial was designed to test this new proposed treatment for hyperopia.
"It is a bit ironic that hyperopia is more bothersome for adults than children, yet this method may only work with children," says Dr. Aller, "even children will notice the improvement in their vision, but their appreciation will likely grow as they get older."
Children accepted into the clinical trial will receive necessary contact lenses, all examinations and contact lens solutions for up to two years. Parents who are interested in finding out if their children might qualify for this study should call Dr. Aller's office at (650) 871-1816. Information about the study can also be found at http://goo.gl/D6ShVY.
The new clinical trial, Optical Defocus to Stimulate Eye Elongation in Hyperopia or the ODSEEH trial is listed on http://www.clinicaltrials.gov as NCT00950924. The protocol has been approved by the Oak Lawn Institutional Review Board.
About Thomas Aller, O.D.
Dr. Aller graduated in 1983 from the top-ranked optometry school at the University of California, Berkeley. He was co-developer of Exerceyes, vision training and ergonomic software for workplace wellness in the 1990's. He was a founding board member and officer of California Optometric Laser Associates, Inc., an innovative company that fosters co-management of laser and surgical correction. In 2006 he was granted one of the world's earliest patents in the field of myopia control. He has also served as clinical instructor at the School of Optometry in Berkeley and actively collaborates in research projects with the optometry faculty. He has lectured internationally on myopia progression control methods and therapies.
Dr. Aller is also serving as Senior Research Scientist with the Vision Cooperative Research Centre in Sydney, Australia. The Vision CRC and the Brien Holden Vision Institute are coordinating an international effort to research and bring to market novel contact lens designs to reduce myopia progression in children. The use of certain optical designs to control myopia or reduce hyperopia is covered by multiple international patents held by or licensed to the Brien Holden Vision Institute.
FOR MEDIA INQUIRIES:
Dr. Thomas Aller, O.D. (650) 871-1816 Office; (650) 451-8989 Cell
For more information, please visit http://www.stopmyopianow.com or http://goo.gl/D6ShVY