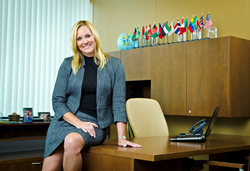 To make it happen you have to think it, believe it and then grab it,We can't just sit around waiting for gender equality to happen, we have to make it happen. And there is no better time to start than the International Day of Women
Rochester Hills, MI (PRWEB) March 05, 2015
"To make it happen you have to think it, believe it and then grab it," Blaker told her group. "We can't just sit around waiting for gender equality to happen, we have to make it happen. And there is no better time to start than the International Day of Women!"
Blaker formed the Metro Detroit Chapter of the USNC-UN Women over a year ago and has been active her entire adult life in promoting gender equality and empowerment of women in both her business life and her personal life.
"Remember to put out your hand out to other women who are trying to scale the ladder. Empowering your fellow women will help to strengthen not only their position but the position of women worldwide," said Blaker.
Lori Blaker is the President/CEO of TTi Global, and one of 850 CEO's from around the world who have signed the CEO Statement of Support for the WEP (Women's Empowerment Principles), signaling their support for gender equality and the guidance provided by the Principles. Additionally Blaker recently became a member of the UN Global Compact.
When talking about gender equality in the workplace Blaker told her group to "Stand up for yourself, ask for the opportunities for advancement, point out these opportunities, don't wait to be asked. And make sure salary levels are fair and equitable. Do your research and point out industry and market standard salary levels for the position. Do your homework and be prepared."
About The Metro Detroit Chapter of the US National Committee for UN Woman The organization offers its support to federal legislation and funding that seeks to promote gender equality and economic empowerment of women. The Chapter works with local government officials to support legislation that promotes gender equity. For information about joining please go to https://www.unwomen-usnc.org/detroit or call Nancy at 248-496-4965.