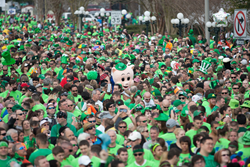 Pensacola, Florida (PRWEB) March 04, 2015
Nearly 17,000 runners will participate in this year's McGuire's 5k Run, to kick off at 9 a.m. on March 14.
The annual race – hosted by the world famous McGuire's Irish Pub – celebrates St. Patrick's Day and benefits injured service members.
The event – which includes heavy doses of "imbibery and debauchery," in addition to running and charity – has been dubbed "America's largest prediction race." The distinction is in keeping with the Pensacola landmark's quirky character.
The pub has achieved international recognition for its bizarre traditions, which include inviting guests to staple autographed dollar bills to the walls and ceiling and demanding that first-time patrons kiss a mounted moose head.
The race is similarly unconventional. Instead of attempting to be the first to cross the finish line, runners try to guess how long they will take to complete the race. Whoever gets the closest to their actual finish time is crowned champion.
Otherwise, The rules are pretty clear: Everyone is welcome. Participants can run or walk, and "stragglers" who can't make it to the finish line will be picked up along the course – albeit in a green, double-decker bus.
Stragglers are welcome. Many participants dress for the occasion – donning outlandish green costumes from head to toe. The post-race party, usually filled with leprechauns and green fairies, pours into the McGuire's parking lot and middle of Gregory Street and includes an Irish sing-a-long, Irish food and McGuire's official Irish beer, brewed at the restaurant's onsite brewery.
Registration for the race is currently underway. Runners and revelers can register online. The fee is $30.00 and includes a commemorative t-shirt. The race benefits a handful of local charities and the national Injured Marines Semper Fi Fund. The Semper Fi Fund has given out millions of dollars in assistance to wounded, critically ill and injured service members and their families. McGuire's is honored to have dozens of Marines in their army green workout wear participate in the run each year.
#
About Visit Pensacola
Visit Pensacola leads the effort of economic development through tourism in Escambia County. Comprised of over 200 member businesses, Visit Pensacola's mission is to position the Pensacola Bay Area as a premier year-round travel destination through tourism marketing, communications, meetings and conventions, reunions and group tour initiatives. For more information about Visit Pensacola, call 1-800-874-1234 (toll-free) or go to VisitPensacola.com.