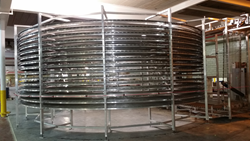 As manufacturing footprint optimization becomes more important, bakers can choose spiral conveyors using CamEDGE that allow coils, fans and conditioning systems to be placed in the center of the conveyor. Mike Truitt, Cambridge Engineered Solutions
(PRWEB) March 05, 2015
Cambridge Engineered Solutions, the world's largest metal conveyor belt manufacturer, has introduced CamEDGE, a new cageless spiral system conveyor belt. Designed for original equipment manufacturers (OEMs) selling primarily to the baking industry, CamEDGE will debut at Anuga FoodTec in Cologne, Germany on March 24-27.
Positively driven and low in tension, CamEDGE is the strongest, edge-driven spiral system belt available. According to Cambridge, CamEDGE belts utilize a robust, well-supported drive link on the outer edges that reduces component flexing during sprocket engagement. This results in an extended belt life and less chance of component fatigue. Furthermore, the stainless steel belt's hold-down tabs eliminate "Christmas treeing" (lifting) associated with traditional spiral designs which prevents the possibility of catastrophic failure.
Designed for cooling and proofing processes, but also functional for freezers and chillers, CamEDGE in combination with an edge-driven spiral system, allows plants to modernize and increase throughput. The cageless system and spiral belt reduces floor footprints and can be configured around structural columns and other places traditional spirals can't be built.
"As manufacturing footprint optimization (MFO) becomes more important, bakers can choose spiral conveyors using CamEDGE that allow coils, fans and conditioning systems to be placed in the center of the conveyor," said Mike Truitt, Cambridge International Sales Director. "Ultimately, it means OEMs can decrease costs for customers by eliminating cages. This can also mean a lower cost-entry point for certain customers who have yet to purchase a spiral conveyor, but desire to do so."
When using CamEDGE in a cageless system, baked goods can enter and exit on the same plane which eliminates the need for transfer equipment and accessories, according to Truitt. Custom configurations are available, including round, oval, in-low/out-low and in-high/out-high. Belt widths are offered up to 1219 mm (48 inches). This also makes CamEDGE applicable for use in some protein (meat, poultry, fish) food processing.
CamEDGE also delivers significant sanitary and maintenance benefits at a time when there is an increased focus on food safety throughout Europe.
"Cleaning is quicker and easier since the belt represents 85 percent of the entire system," said Tom Perdue, Cambridge Product Development Engineer. "And no cage means there is no middle structure to clean and no bar caps to maintain."
"The belt's edge-drive design eliminates bull chains or tooth segments to maintain, repair or replace," said Perdue, "and there's no overdrive to set, adjust or check."
Cageless systems using CamEDGE require a lower overall amperage draw and provide energy and cost savings vs. traditional spiral cage systems in a variety of ways:

With no take-up tower, it eliminates the need for an extra drive/motor (traditional spirals require two)
Simplified electrical controls mean 40 percent less switches are needed
50 percent less bearings and associated grease are required
Cambridge will have a working cageless spiral system with CamEDGE belt on display for OEMs to see at Anuga FoodTec (Hall 10.1; Stand E075-79). For food processing end-users, Cambridge will be featuring three additional conveyor belts at the global trade fair.
DuraFlex Edge®, a straight-line, positively-driven belt with clinched edge and NokLok™ picket design for baking, frying, breading and battering applicatons
DuraHinge®, a straight-line, positively-driven flex style belt with z-bend technology for baking, frying, breading and battering applications
Slatrak, Teflon-slatted channel, positively driven belt for tempura frying applications
About Cambridge Engineered Solutions
A division of Cambridge International, Cambridge is the world's largest metal conveyor belt manufacturer and a global leader in filtration screens. For more than a century, Cambridge has developed dynamic solutions, revolutionizing industry automation and plant operations. With more than 15 exclusive product lines and over 50 patents, our team of dedicated engineers and experts continually devise new methods to make lines run smoother, faster and handle more product weight. For information visit http://www.cambridge-es.com.