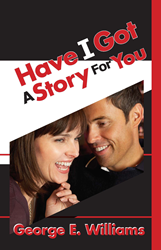 I want my children to say, 'My dad is an author.' I really like the way that sounds.
St. Peters, MO (PRWEB) March 11, 2015
George E. Williams released his first book, Have I Got a Story for You, in March 2015. It is a book of short stories that will make you laugh, cry and probably blush a little. Some of the stories are fiction. Some have some adult humor. Williams added his own dry humor that he thinks everyone will appreciate. He hopes it will make people laugh out loud, forget about serious things for a while, and look at life differently.
Williams stated, "My intention is to have a series of short stories. My children always loved my stories, especially when I would imitate the characters. Well, that's kind of hard to do in a book. I tried to be as descriptive as possible. I like writing in a way that sounds like I'm talking to the reader. Like I'm actually telling the story to them."
He has never thought of himself as a writer. He has always told people, "I'm not a writer by any stretch of the imagination, but I do have a very vivid imagination." He has frequently been told he should write a book. Writing a novel would have been torturous for George, who struggles with ADD, so he broke it up into short stories to make it more manageable.
"Once I got to writing, I just could not stop," said Williams. He has currently written about 45 short stories. Have I Got a Story for You contains his first nine. He added, "I want my children to say, 'My dad is an author.' I really like the way that sounds."
The paperback is available from Mira Digital Publishing and Amazon. The ebook can be purchased from Amazon, Barnes & Noble, Apple, Google, and ebooks2go.
George E. Williams lives in St. Peters, Missouri. He is a Maintenance Mechanic for a health care facility. He has worked there for twenty two years. George spent four years in the U.S. Air Force, where he learned to be a Mechanic. When he's not working, he can be found riding his motorcycle or playing his drums with a group of musicians. George has two outstanding children, to whom he has dedicated his first book. He intends to self publish a series of books with short stories. He promises that every new book will be better than the one before.