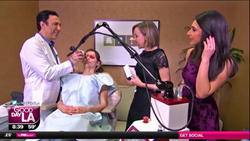 Los Angeles, CA (PRWEB) March 05, 2015
On March 2, 2015, NBC News posted an online article titled "Butt Augmentation, Labiaplasty on the Rise, Plastic Surgeons Say," that comments on the 2014 year-end surveys reported by the American Society for Aesthetic Plastic Surgery and the American Society of Plastic Surgeons. Both groups reported a year-over-year doubling of surgical butt augmentations performed in 2014. According to one of the physicians quoted in the article, this increase can be attributed to the social impact of celebrities such as Kim Kardashian and Jennifer Lopez. (see: http://goo.gl/NnZtrX)
"It's interesting to note that non-surgical fat reduction was reported to be up 43 percent," says Dr. Simon Ourian, Medical Director of Epione Beverly Hills. "At our practice, we've seen an enormous increase in the number of patients requesting LipoFreeze non-surgical fat reduction."
According to the NBC News report, butt implants have a 30 percent complication rate, leading to an increase in augmentation with fat grafting. During this procedure fat is harvested from one area of the body and then injected into the buttocks to provide the desired augmentation. The American Society for Aesthetic Plastic Surgery also reported a 49 percent year-over-year increase in the number of women undergoing labiaplasty, a procedure in which the inner lips of the female genitalia are trimmed.
"It's too soon to tell if the trend reported in the article will continue or if it's just a fad," says Dr. Ourian.
Dr. Ourian has been a pioneer in laser technology and non-invasive aesthetic procedures including Restylane, Juvéderm, Radiesse, Sculptra, and CoolSculpting. These treatments are used for the correction or reversal of a variety of conditions such as acne, acne scars, skin discoloration, wrinkles, unwanted fat, stretch marks, varicose veins, cellulite, and others. More information about plastic surgery can be found on Epione's website.