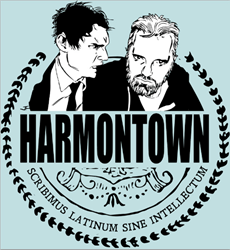 Burbank, CA (PRWEB) March 04, 2015
Dan Harmon's popular podcast will perform again this year at SXSW, after being invited back as part of the comedy festival line-up during SXSW Film. Starburns Industries and Yahoo are bringing the live show to SXSW in support of Yahoo Screen's exclusive presentation of Season 6 of "Community," Saturday, March 14th at Brazos Hall in Austin.
The Harmontown podcast will kick off at 7pm, followed by a Community cast red carpet and a sneak peak of the first episode of Community's 6th season, presented at 9:30pm. The evening will culminate in a Greendale School Dance party at the same venue, beginning at 10pm. All events will celebrate the release of Community on Yahoo Screen (http://www.yahoo.com/screen), March 17th and promote the show's eagerly awaited return.
Harmontown performed at SXSW last year during the premiere of the Harmontown documentary, which was co-produced by Starburns Industries. The film premiered as part of the documentary spotlight portion of SXSW Film, and Harmenians from across the country came out to see the movie and Dan and co perform live. Bringing the show that inspired the movie was a great complement to the film then, and joining Harmontown and Community fans together this year at SXSW is another natural fit.
Follow @Harmontown, @CommunityTV, @YahooScreen, @StarburnsInd, @SXSW and @DanHarmon on Twitter for more details and exclusive giveaways related to the events. #CommunityLivesOn and #Yodel
About Harmontown
Harmontown is a popular podcast with Dan Harmon ("Community", "Rick and Morty"), Jeff B. Davis ("Who's Line Is It Anyway"), Erin McGathy ("This Feels Terrible") and Spencer Crittenden ("Community"). The off the cuff show features special guests, role playing games and hilarious social commentary and is performed weekly at the NerdMelt Showroom in Hollywood. Harmontown can now be streamed live at http://www.Harmontown.com.
About SXSW
Since 2008, SXSW Comedy has hosted hundreds of legendary performers, and united some of the world's funniest performers with icons from the film and digital worlds. Growing from a single evening's celebration of comedy's biggest names to a full week-long festival featuring dozens of shows on Austin's historic stages, SXSW Comedy presents uniquely diverse programming that highlights exceptional emerging and established talent.
About Starburns Industries
Starburns Industries is a groundbreaking production studio specializing in stop-motion and traditional 2D animation, as well as live-action productions. The company produces TV shows, features, commercials and new media projects. In addition to co-producing Harmontown, Starburns recently wrapped production on Anomalisa, the stop-motion animated feature film written by Charlie Kaufman. The studio is also the production home of Adult's Swim's hit animated series, "Rick and Morty", created by Dan Harmon and Justin Roiland. The company is lead by partners Joe Russo II ("The Simpsons", "Rugrats"), James A. Fino ("King of the Hill"), Dan Harmon (NBC's "Community", Adult Swim's "Rick and Morty") and Dino Stamatopoulos (Adult Swim's "Morel Orel", "Mary Shelley's Frankenhole"). Learn more at http://www.starburnsind.com