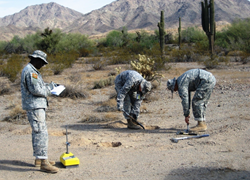 The truly international character of the ICMG is probably one of its most prominent characteristics. - Commander Hennie Smit, Faculty of Military Science, Department of Military Geography at the University of Stellenbosch, South African Military Academy.
Reno, Nevada (PRWEB) March 05, 2015
Military activities – past, present, and future – will always be strongly linked with a wide spectrum of geosciences. The decisive outcomes of numerous battles on land throughout history have been dictated in large part by the terrain and environmental conditions. Modern military operations rely on a range of land-, air-, and space-borne intelligence supplemented with knowledge of often variable terrain processes and conditions.
The 11th International Conference on Military Geosciences (ICMG), to be hosted June 15-19, 2015 by Nevada's Desert Research Institute (DRI) at the U.S. Naval Academy in Annapolis, Maryland, will provide a venue for military personnel, academics, and practitioners from government service and commercial enterprises to explore a wide range of military geosciences.
"I've contributed to all meetings but one in this series," said Dr. Ted Rose, a research fellow at the Department of Earth Sciences, Royal Holloway at the University of London. "Held only every two years, alternately between North America and Europe, the meetings provide a rare and, by their wide-ranging scope, unique opportunity for presentation and discussion of cross-disciplinary case-histories and current research broadly focused on the 'best use of ground' for military purposes—and the legacy of that use."
The modern study of environmental sciences is critical for both evaluation of how terrain and land surface conditions may impact military equipment and operations as well as sustainable management of military reservations and installations. Further, potential increases in geopolitical instability, driven in part by decreasing natural resources and environmental impacts related to global climate change, will a factor in determining the future and fate of global military conflicts.
"DRI is honored to host this unique conference in collaboration with our military and federal agency sponsors," said Dr. Stephen G. Wells, DRI President. "For more than 40 years our research scientists, students and staff have been supporting the missions of our U.S. Department of Defense, U.S. Army Research Office and many other federal and private-sector military partners. Military geosciences remains one of DRI's core scientific focus areas and the future of applied research and application in this field is critical to our nation's security."
The overarching theme of the 2015 meeting is the future of military geosciences. Conference organizers especially seek papers related to military operations in deserts, however, other themes and topics related to military geosciences are welcome. Possible topics and areas of interest include:

International security: borders to natural resources
Sustainable management: from military training areas to deployed settings
Coastal and marine environments: warfare to environmental impacts
Climate and conflict: military response to predictive climate change
Beyond warfare: Pandemics to providing vital resources Geospatial intelligence
Geography and Geology of battle field terrain (historical to modern)
Environmental issues of military activities (e.g. UXO detection, battlefield preservation)
Terrain analysis (field-based, remote sensing, digital mapping)
Impact of global climate change on geopolitical instability
"The primary reason I will be attending my fourth consecutive ICMG conference this June is to once again interact with the fascinating diversity of international presenters," said Commander Hennie Smit, Faculty of Military Science, Department of Military Geography at the University of Stellenbosch, South African Military Academy. "Apart from the diversity of presentations and the high standard of academic debate, the truly international character of the ICMG is probably one of its most prominent characteristics."
Situated on the Chesapeake Bay at the mouth of the Severn River, Annapolis is a vibrant, 350-year-old city, proud of its colonial heritage and home to the United States Naval Academy and St. John's College. The city has a rich military history, from its days as a political and administrative capital during the American Revolutionary War, to serving as the site of the 1786 Annapolis Convention (which called for the Constitutional Convention held the following year) and the Annapolis Peace Conference, held in 2007.
"Annapolis has a long colonial history alive in its historic buildings, proximity to sites from the War of 1812 and the Civil War, and a long tradition of training military leaders since 1845," said Dr. Peter Guth, a professor in the Department of Oceanography at the U.S. Naval Academy. "Come share some Chesapeake blue crabs with us!"
The conference program will be divided between in-room sessions of oral and poster presentations and various excursions around the surrounding desert. A day-long field trip of the U.S. Naval Academy with a focus on historic and future operations is planned for mid–conference. A book containing selected papers presented will be published after the conference.
ICMG conference organizers invite abstracts to be summited on the conference at the conference's website at - http://www.dri.edu/icmg11.
Previous conferences were held at the Las Vegas, Nevada (2011) Vienna, Austria (2009), Quebec City, Canada (2007), Nottingham, UK (2005), West Point, New York (2003), and at Greenwich, UK (2000), Toronto, Canada (1998), London, UK (1996), and Seattle, Washington (1994).
For more information and registration details for the 11th International Conference on Military Geosciences please visit - http://www.dri.edu/icmg11
###
About Desert Research Institute: DRI, the nonprofit research campus of the Nevada System of Higher Education, strives to be the world leader in environmental sciences through the application of knowledge and technologies to improve people's lives throughout Nevada and the world.