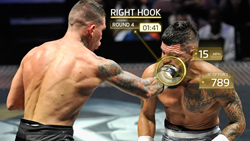 "We are about to bring the world of boxing into the 21st century with new data that will heighten fan engagement to never before seen levels." - Wes Elliott, Founder/CEO of EFD Sports
Florence, South Carolina (PRWEB) March 05, 2015
On February 17th, 2015, The Nevada State Athletic commission approved the use of EFD Sport's sensor technology, StrikeTec, in BKB's boxing events. StrikeTec is the latest in wearable sensor technology, measuring pounds of force and velocity on every punch thrown in real time. EFD's sensor technology will debut during BKB's event on April 4th, 2015 and Directv will be broadcasting fight stats from the sensor in real-time directly to the viewer's TV.
StrikeTec is placed in the wrist of the boxer's gloves, where it cannot be felt, and it will track punch stats including but not limited to MPH and Power (In pounds of force – LBF) during their live event. The sensors will transmit the information to the TV screen in an easy to read graphic display.
NAC's approval of StrikeTec in BKB is astounding the boxing scene. With the release of this unique wearable sensor technology, the sport will be transformed. The StrikeTec Sensor displays: Punch Calculations, Punch Type Recognition, Speed Calculations, Force Calculations, as well as Count Calculations and it will now be available instantly to the viewer.
StrikeTec will not only enhance the viewer experience and change the way the sport is observed, but the fighters will now be able to see their performance in a whole new way. Fighters will be able to review and compare their data with their opponent as well as compare their own performance from match to match. EFD Sports and BKB are bringing the sport to the next generation with the implementation of this one of a kind wearable sensor technology.
For further information on StrikeTec visit EFD Sports
Media Contact:
EFD Sports
Attn: Media Relations
1951 Pisgah Road
Florence, South Carolina 29501
843-413-3288
info(at)efdsports(dot)com