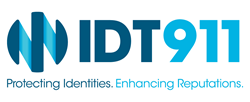 Scottsdale, Ariz. (PRWEB) March 05, 2015
Taxpayers have been issued a stern warning about the increase of identity theft for the 2015 tax season from IDT911, the nation's premier consultative provider of identity and data risk management, resolution and education services. Citing a 135 percent increase in tax identity theft from 2013 to 2014 in the IDT911 fraud center, IDT911 is urging taxpayers to file as early as possible and proactively monitor their identity daily.
Tax identity theft is easy to commit and only takes three types of information – SSN, name, and date of birth, to successfully file fraudulently. Oftentimes, this information is readily available by intercepting mail like W-2s or buying identities on the black market where data from breaches often turns up. Most recently, the Anthem healthcare data breach exposed this information about more than 78 million consumers, leaving them vulnerable to not only tax identity theft, but other types of identity theft for the rest of their lives.
"The 2015 tax season is slated to be the worst yet for identity theft," said Victor Searcy, IDT911 fraud operations director. "We've already seen a 221 percent increase in tax identity theft cases to date* from 2014, and many of these victims have been hit in the past with either tax identity theft, or another type of identity theft. Meaning, they've been victimized before and it's likely due to their personal data being exposed in a breach and/or for sale in an online marketplace."
Budgetary cuts, antiquated technology, and staff reductions have exacerbated the problem, with the Internal Revenue Service paying out about $6 billion in fraudulently-filed tax returns in 2013, said a Government Accountability Office report released January 2015.
According to tips posted on ThirdCertainty.com and the IDT911 Knowledge Center taxpayers should:

File your tax return early and do it electronically. E-filing submits your tax return directly to the IRS quickly and more securely than paper filing.
Do not store tax information on your computer. Keep sensitive tax information (worksheets, W-2s, 1099s, 1040s) on a password-protected or encrypted external drive or disk, and store it in a secure location, such as a safe-deposit box or a locked safe. If you must store it on your computer, make sure the drive is encrypted. Never store tax files or any personal information on a cloud or Internet drive.
Be on high alert for phishing scams. The IRS will never email a taxpayer asking for more information. If you receive an email appearing to come from the IRS, do not click on any links and delete immediately.
Carefully choose a tax preparer. Many fraud rings front as tax preparation companies that may steal personal information, redirect your return or offer to fraudulently review your returns for inaccuracies.
"Tax identity theft is quick and easy for thieves," says Searcy. "Enrolling in a proactive identity management and resolution service can save consumers a large, costly headache down the road."
More than 17.5 million households in the United States have access to complimentary or low cost identity management services from IDT911. To see if you have access, contact your employer, bank, credit union, or insurance company.
*As of February 26, 2015
About IDT911™ (IDentity Theft 911®)
Founded in 2003, IDT911™ is the nation's premier consultative provider of identity and data risk management, resolution and education services. The company serves more than 17.5 million households across the country and provides fraud solutions for a range of organizations, including Fortune 500 companies, the country's largest insurance companies, employee benefit providers, banks and credit unions and membership organizations. A subsidiary of IDT911, IDT911 Consulting™ provides information security and data privacy services to help businesses avert or respond to a data loss incident. Together, the companies provide preventative and breach response services to over 770,000 businesses in the United States, Canada and the United Kingdom. IDT911 is the recipient of several awards, including the Stevie Award for Sales and Customer Service and the Phoenix Business Journal Tech Titan award for innovation in breach and fraud-fighting services. The company is the organizer of the Privacy XChange Forum, an annual conference that brings together high profile privacy thought leaders. For more information, please visit http://www.idt911.com, http://www.idt911consulting.com, http://www.facebook.com/idt911 and http://www.twitter.com/idt911.