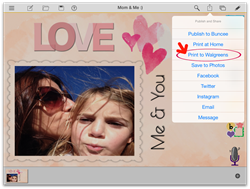 With the Walgreens Photo Prints API integration, our users can turn their creations into high-quality prints they can easily pick up at any Walgreens across the nation. - CEO & Founder, Marie Arturi
Calverton, New York (PRWEB) March 10, 2015
buncee® released the latest update to its two iPad apps, Buncee Pro and Buncee for Edu, which now feature an exciting integration with the Walgreens Photo Prints API. These apps have always been perfect for creating digital cards, scrapbooks, collages, stories and more. Now users will be able to turn their online creations into 4 x 6, 5 x 7, or 8 x 10 inch, high-quality prints that can easily be picked up at Walgreens stores across America.
Commenting on the new integration, buncee Founder & CEO Marie Arturi states, "Buncee Pro and Buncee for Edu are terrific tools for sharing those precious memories or creating digital stories with your students. With the Walgreens Photo Prints API integration, our users can turn their creations into high-quality prints they can easily pick up at any Walgreens across the nation. Our iPad users have always been able to share their creations digitally, and we are now proud to say they can also easily share beautifully printed buncees with family and friends."
Buncee Pro and Buncee for Edu are creative, flexible applications that enable users to quickly and easily make cards, scrapbooks, collages, digital stories and more. Users can combine their own photos, text, drawings, and audio recordings with buncee's huge library of backgrounds and stickers to personalize creations. With the Walgreens Photo Prints API integration, buncee users can not only save a buncee to their photo stream, post it to their favorite social networks, or e-mail it to friends and family, they can now also share it as a personalized professional print.
The Walgreens Photo Prints API integration is the latest in a series of recent user interface and feature upgrades to buncee's iPad apps. Also new in this release are a brand new text editor, new fonts, and the ability to attach audio recordings to stickers so users can create characters that speak and sing. Other recent additions include the Latest Creations and Resources galleries, which help users draw inspiration from other buncee creations, and a Wizard tool that automatically creates buncees based on themed templates. With exciting updates like these and with the Walgreens Photo Prints API integration, Buncee Pro and Buncee for Edu offer more creation and sharing options than ever before.
Whether on the go, in the classroom, or at home, buncee's iOS apps make creating and sharing digital content easy and fun. For further information on all of buncee's mobile apps, visit http://www.buncee.com/mobile.
About buncee:
Buncee® simplifies online content creation with its digital canvas and easy-to-use tools. Whether teachers are flipping lessons, students are crafting digital stories, parents are designing holiday greetings, or teams are crafting interactive marketing brochures, creating engaging original content on buncee.com and edu.buncee.com is simple and fun. At school, at home, or at work, buncee makes it easy for even the most 'nontechnical' users to create interactive multi-media creations that can be shared with customizable privacy settings. For more information, visit: http://www.buncee.com or http://www.edu.buncee.com.