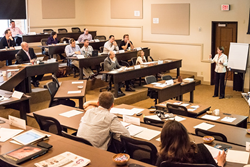 Texas Executive Education is ranked #7 among US business schools and # 15 globally for its executive development programs by Businessweek.
Austin, Texas (PRWEB) March 05, 2015
The International Consortium for Executive Education (UNICON) recently released findings from its annual membership survey, which included more than 100 universities from around the world with significant executive education programs, including Texas Executive Education at The University of Texas at Austin's McCombs School of Business. The survey found that year over year, the industry grew by almost seven percent - about twice the global GDP growth rate. In comparison, Texas Executive Education has grown an average of 18% per year for the last ten years.
"Texas Executive Education saw some major changes in 2014," said Gaylen Paulson, Associate Dean and Director at Texas Executive Education. "We've added new courses and certificates (bringing our total to 45 and eight, respectively), and have expanded our potential for incorporating technology into our curriculum. We are delighted with where things have gone, and what is in store for us this year."
According to the UNICON survey, more than half of all executive education delivered around the world is of the "custom" variety, meaning the coursework is tailored to a specific organization's development needs. Currently, Texas Executive Education works with over 40 United States and international companies – including industry leaders such as Royal Dutch Shell, ExxonMobil, BBVA Compass, National Oilwell Varco, USAA, Samsung and ISNetworld – to develop customized executive development programs. Texas Executive Education is ranked #7 among US business schools and # 15 globally for its executive development programs by Businessweek.
Another trend detailed in the UNICON industry survey showed an increase in interest for online courses and the incorporation of technology and online services to executive education programs. The primary delivery method for executive education is still face-to-face, but European universities reported that 18 percent of their programs were delivered via online learning or a hybrid of face-to-face and online learning, as compared to 11 percent for North American universities.
"It's interesting to see the integration of technology into the way that university-based executive education providers operate," said UNICON Chair Kelly Bean, Associate Dean for Executive Education at UCLA's Anderson School of Management. "A recent UNICON-commissioned survey of our clients revealed that they want us to provide integrated, practical learning that they can apply immediately to their business issues. It is gratifying that UNICON members have responded with forward-thinking technological solutions to these client demands."
Texas Executive Education is a part of this trend as well, launching six new online offerings this winter that make up the Texas Business Foundations Program (BFP) Online. Courses in this program work together to help professionals expand their business knowledge while fitting into their busy schedules. The curriculum includes fundamental business courses: Foundations of Accounting, Foundations of Finance, Introduction to Information Technology Management, Foundations of Legal Environment for Business, Foundations of Marketing, and Foundations of Organizational Behavior and Administration.
"Not only are we now offering online options to make things more convenient for busy business professionals," said Paulson, "technology has also become more integrated into our curriculum inside the classroom as well. We're offering faculty the option to provide course materials online, and some of our programs even provide participants with tablet computers for their course work. Classrooms and meeting spaces at the AT&T Executive Education and Conference Center also feature state-of-the-art technology -- It'll be interesting to see how our offerings shift and change as technology becomes more integrated into our curriculum."
For more information about Texas Executive Education's Open Enrollment courses, Custom Programs and online offerings, visit https://mymccombs.force.com/execed/ExecEdTrueHome.
###
About Texas Executive Education
With over 50 years of experience in executive program development, Texas Executive Education is a leader in delivering world-class education and leadership development to companies and individuals through Custom Programs and Open Enrollment classes. These graduate-level, non-degreed programs are designed to provide executives with the knowledge, connections and skills to go further in their careers and their lives. In-person, interactive classes at this school-within-a-school are taught by world-class faculty. With an offering that includes 45 class titles, eight certificates and the ability to develop Custom Programs tailored to individual companies, Texas Executive Education fosters personal and professional development in a format well-suited for busy, working people.
About the survey
The questionnaire was developed by UNICON in collaboration with Percept Research to provide consortium members with a credible and comparative assessment of the non-degree executive education industry. It was conducted in October 2014 and included responses from 83 percent of UNICON's membership.
About UNICON
Founded in 1972 as an association of executive education program directors, UNICON has evolved from an informal common-interest group into an incorporated non-profit consortium committed to advancing the field of university-based executive education. Membership is composed of more than 100 educational institutions from the Americas, Europe, Asia and Africa.
UNICON is committed to the principle that university-based executive education provides a combination of thought-leadership at the highest levels of rigor, masterful learning environments and practical application that cannot be replicated by non-academic providers.
UNICON sponsors and conducts research studies that bring to the forefront this unique value of university-based executive education. It also provides industry/operational knowledge and networking opportunities for members through conferences, webinars, workshops, research, benchmarking, website, newsletters, job postings, discussion boards and forums and other activities.