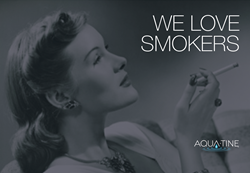 New York, NY (PRWEB) March 04, 2015
Smokers across America are the target of a highly creative, breakthrough marketing campaign called 'We Love Smokers' from Aqua-Tine, the new brand that helps you manage your cravings for tobacco.
"It's important to establish a clear point of view for your brand and be true to it. Our idea, 'We Love Smokers' elevates the Aqua-Tine brand, gives it an iconic, provocative, leadership point of view. We created a bold tone of voice that is also genuinely thoughtful to ensure we engage our audience. 'We Love Smokers' proclaims that we should not shame smokers or look down at them or make them feel bad. Rather we want to give them a big compassionate, non-judgmental hug right as the craving hits," says Scott Goodson, Founder of StrawberryFrog. "There's a lot of tobacco alternatives out there like Electric Cigarettes but none that will love you the way this brand does."
Aqua-Tine, which has no harmful toxins or carcinogens, is also announcing it has appointed StrawberryFrog New York as its advertising partner. The appointment follows a decision by the management of Aqua-Tine to develop the brand in light of the advances made by the business in developing its retail and digital offer. The appointment covers branding and marketing campaign in social media and digital platforms and in innovation platforms.
"Scott Goodson and his agency StrawberryFrog have a world class reputation for strategy, creativity and social media, and we feel their appointment will add real drive to our marketing campaign. We needed a bold idea to break through to people. With all the innovation in the sector with alternatives to cigarettes and tobacco, the excitement and opportunity we see for the Aqua-Tine business going forward we felt a disruptive approach was needed in our advertising," said Aqua-Tine CEO Walker Grant. "StrawberryFrog did original research that showed us how many women out there want to control their tobacco cravings, women around children, on airplanes, in the office and at other social events. 'We Love Smokers' is designed to connect with them and offer a simple yet clever way to buy Aqua-Tine on WeLoveSmokers.Net "
"If you're a smoker you're addicted to nicotine. The 'We Love Smokers' campaign empathizes with people rather than judging them, while presenting you with an alternative to control your cravings. We aim to build a unique connection with our target audience of smokers, especially female smokers who are looking for a cleaner, homeopathic, non-toxic way to stop their cigarette cravings in front of children, at work or on an airplane, says Liz Scordato, Business Lead at StrawberryFrog said. "We are thrilled with this appointment as we get to work with great people on an important brand and help them in their ambition to be the number one in way to reduce cravings for smoking."
Tyler Matthews of Aqua-Tine says: "We are really excited about this marketing movement. "We love smokers" is a long-term brand idea that will connect with our audience quickly. If you're a smoker you can relate to the judgmental stares. You know what it's like, you're a smoker, visiting a family with children and the cravings set in. Aqua-Tine is a better alternative. It's all about less shame and more gain. StrawberryFrog understood this through innovative research, a disruptive strategy and brilliant creative."
About Aqua-Tine:
For smokers who want to control their cravings for cigarettes, you can buy Aqua-tine on http://www.WeLoveSmokers.net. Aqua-tine has only 3 ingredients and gives you more control of what put in your body. It can be purchased at http://www.WeLoveSmokers.net or https://aqua-tine.com Aqua-tine has fewer ingredients than e-cigarettes and other nicotine replacements on the market. Aqua-tine is against the carcinogens, toxins, and other unnecessary harmful ingredients related to E-cigarette and vapor.
About StrawberryFrog:
StrawberryFrog was founded by Karin Drakenberg and Scott Goodson in 1999 as the world's first movement marketing agency. Based on Madison Avenue, in New York City, StrawberryFrog is known for its movement campaigns for Jim Beam, Sabra, Google, Heineken and Emirates Airlines. http://www.StrawberryFrog.com
Further information:
Tyler Mathews
Phone: 334.799.6176
Email: tam(at)aqua-tine(dot)com