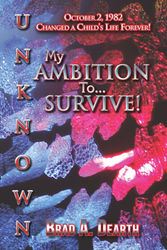 I'm proud to be what I am and wouldn't change a thing. My experiences have shown me 'My Ambition to Survive.'
Duluth, MN (PRWEB) March 17, 2015
When he was seven years old, Brad Dearth suffered a depressed skull fracture in a car accident that resulted in a Traumatic Brain Injury (TBI). He was in a coma for two weeks, and needed a craniotomy to fix his destroyed brain. The accident left him with total loss of his left frontal lobe, and a damaged temporal lobe. He wrote a book to share his story, and to educate people about TBI. March is Brain Injury Awareness Month, so his book release on March 2nd was perfectly timed.
The book includes his mom's account of the accident and the days following, Brad's memories and life story, photographs, 14 of Brad's poems, and information about TBI. Brad's story is written in his own words; many readers feel this helps them to know what he has been through. The book also includes Brad's SPECT scan from the Amen Clinic, plus a healthy SPECT scan so readers can compare the two. There are three informational pages that will help the reader understand and interpret the scans as well.
People are often shocked to hear Brad's story after meeting him. Readers have said that My Ambition to Survive is engaging, inspiring, powerful, and thought-provoking. They are impressed with his clarity and detail, and have a hard time putting it down once they have begun reading.
To purchase this first edition paperback book from Mira Digital Publishing, click here.
Brad has many mantras that help him get through challenges, including "Do not give up and do not give in," and "Everything is possible!" He lives by the golden rule, and the word "can't" is not in his vocabulary. Brad offers this hope for those who are struggling through life: "I stand proud for the book I wrote. I am beating my symptoms now and feel relaxed inside. My book proves that you can survive!"
To view Brad's news interview, click here.
Brad currently lives in Duluth, MN, renting out the basement of his mom's house. He keeps busy doing presentations and spreading the word about his book and TBI. He enjoys admiring the fruits of his labors as he does volunteer work, including snow removal in the winter. This book project was both challenging and rewarding for Brad. He hopes his sincerity and his life story influences everyone to view each other more compassionately and equally.