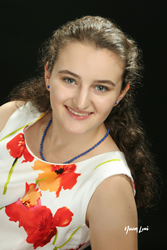 Forest Ridge School of the Sacred Heart prepares students for their future.
Bellevue, WA. (PRWEB) March 04, 2015
Forest Ridge School of the Sacred Heart Senior Chloé Jammes has been named a 2015 National Merit Scholarship Finalist. Chloé is among some 15,000 high-school students across the country that have advanced to the Finalist standing.
"Reaching this level of success is a reflection of the type of commitment Chloé exhibits in the classroom and in her community," said Dr. Carola Wittmann, Forest Ridge School of the Sacred Heart Director of High School. "She is already anticipating her college years as a time to meet people who are equally curious minded and is embracing the opportunity to learn from professionals who are passionate about their subjects."
All National Merit Scholarship winners will be selected from this group of Finalists. Merit Scholar designees are selected on the basis of their skills, accomplishments, and potential for success in rigorous college studies, without regard to gender, race, ethnic origin, or religious preference.
Chloé and the other academically talented high school seniors have an opportunity to continue in the competition for some 7,600 National Merit Scholarships worth about $33 million. Over 300,000 distinguished young people have earned the Merit Scholar title.
###