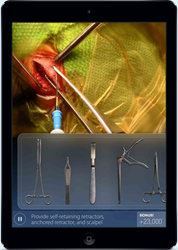 PeriopSim means clinicians can practice safely before surgery, which means a more efficient surgical team and better patient outcomes.
Vancouver, BC (PRWEB) March 09, 2015
Conquer Mobile, simulation training specialists, announced that PeriopSim, a new medical simulation training app for perioperative nurses will launch in the Apple App Store to coincide with the AORN 2015 perioperative nursing conference in Denver this week.
PeriopSim is an iPad app for clinicians who need to learn surgical instruments and procedures. PeriopSim enables surgical staff to practice safely before surgery. Using video of real surgeries and voice prompts, users are guided through a surgery and prompted to use the correct tool at every step. Gamification techniques such as scoring and timed challenges motivate learners to practice and hone their skills. The app is aimed at both students and experienced perioperative nurses preparing for unfamiliar procedures. It is designed to be purchased by educators, as part of a hospital education program, as an institutional purchase.
PeriopSim is available as a free preview version on the App Store here:
AORN 2015 is the premier event of the year for the Association of Perioperative Registered Nurses (AORN). It brings together nurses, nurse educators and medical innovators to discuss issues relevant to all Operating Room (OR) professionals. AORN 2015 takes place March 7-11 at the Denver Convention Centre. PeriopSim is being shown on Booth #4242. Visitors can compete to achieve the highest score on PeriopSim and win an iPad mini.
Conquer Mobile first introduced a prototype of PeriopSim a year ago at the AORN 2014 conference. "Last year we came to AORN to get market validation of the PeriopSim concept." explained Angela Robert, CEO of Conquer Mobile. "We were blown away with the enthusiasm and need for this product. We had 200 nurses and educators test out the prototype and complete a survey. We took all that input and spent a year talking with surgeons, nurses and educators to shape the final product. A year later, the product has been tested in research with resident neurosurgeons at Rookie Camp and has already had its first sales."
"PeriopSim has the potential to reduce the total cost of orientation of nurses, " commented Angela Robert. "It can also reduce stress by allowing nurses to refresh and rehearse skills before an unfamiliar procedure."
The product has been developed in close collaboration with medical experts including surgeons, nurses and nurse educators to ensure accuracy and realistic learning outcomes. Conquer Mobile is a founding member of the Surrey Innovation Boulevard Health Tech Connex hub for medical innovation. PeriopSim has attracted endorsement from surgeons, medical innovators, nurses and educators alike.
"As a surgeon, I rely on my surgical team being well prepared for every surgery," explained Dr. James Bond, Chief of Thoracic Surgery at Surrey Memorial Hospital and Fraser Health. " PeriopSim means clinicians can practice safely before surgery, which means a more efficient surgical team and better patient outcomes."
"PeriopSim makes it possible for surgical teams to quickly get up to speed with new instruments, technologies and procedures," commented Dr. Ryan D'Arcy, Head, Health Sciences and Innovation at Fraser Health. "This portable platform application brings faster adoption of innovative surgical techniques to any clinical environment worldwide."
AORN 2015
Event details: Event Web Site
Date: March 7-11, 2015
Location: Denver Convention Centre, Denver, Colorado, USA
Conquer Mobile Booth: #4242
About Conquer Mobile
Conquer Mobile is a specialist in mobile solutions with a focus on medical simulation training. PeriopSim is a simulation training tool for the iPad, that helps clinicians to prepare for procedures, safely, outside of clinical time. The company has a strong medical advisory group drawing together surgeons, neuroscientists, nurse educators and nurses. Conquer Mobile has a track record producing secure, graphical enterprise apps for blue-chip companies such as NGRAIN, GenomeDx, Webtech Wireless, McDonald's Canada and industry leading Software Companies. The company is based in the Health Tech Innovation Hub, part of Innovation Boulevard in Surrey, Canada.
About PeriopSim
PeriopSim is an iPad app for clinicians who need to learn surgical instruments and procedures. PeriopSim enables surgical staff to practice safely before surgery. PeriopSim is available as a free preview version on the App Store. It is designed to be purchased by educators as an institutional purchase.
For more product details visit our web site:
The free preview version can be downloaded from the App Store here