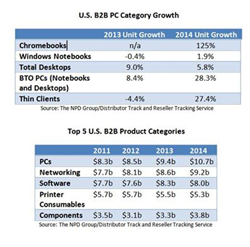 "Two straight years of mid-single digit growth show that vendors recognize the value of the channel, and that going forward the channel is well-positioned to continue to offer substantial growth opportunities across the board."
PORT WASHINGTON, NEW YORK (PRWEB) March 05, 2015
For the third consecutive year, U.S. business-to-business (B2B) channel revenue increased, growing almost 5 percent in 2014 at more than $62 billion, according to The NPD Group's Distributor and Reseller Tracking Services. Over the last four years, B2B channel revenue has added $6.5 billion in sales. PCs, the highest revenue growth category, brought in nearly $11 billion to the B2B market fueled by strong sales of Chromebooks and build-to-order (BTO) PCs.
Chromebook unit volume increased 125 percent in 2014, with nearly half of all sales (42 percent) occurring from June to August – the key back-to-school institutional buying season. The emphasis on these months is a strong indicator of Chromebooks' strength in the education markets.
BTO PCs benefited from customers looking for alternatives to standard-build Windows devices, as momentum for Windows 8 stalled. In 2014, more than 2.7 million BTO desktops and notebooks were sold through B2B channels, up 28 percent from 2013. Desktop sales continued impressive gains, growing 6 percent on top of the 9 percent increase from 2013. Windows notebook revenue increased 6 percent as the average selling price (ASP) jumped $34 to $918, but unit sales were only up 2 percent.
"As we have been saying for the past two years, the PC is most assuredly not dead," said Stephen Baker, vice president of industry analysis, The NPD Group, Inc. "Whether it is the newfound, education-based demand stimulated by Chromebooks, or the robust increase in average selling prices for Windows notebooks - business and institutions are demonstrating that they, and their employees, still find tremendous value in the notebook form-factor."
PCs, the largest B2B product category in 2014, grew 14 percent from 2013. Networking hardware saw its second consecutive 6 percent revenue gain as a result of strength in security appliances. Component sales rose 15 percent on memory and processor sales volume strength, software sales fell by 3 percent, and printer consumables dropped by 4 percent. The top five product categories grew 5.3 percent to more than $37 billion in 2014.
Specific brands also helped drive significant revenue through the B2B channel. The top three brands - HP, Cisco, and Lenovo - generated more than $23.5 billion and grew sales dollars by 7 percent, considerably faster than the overall market. Dell and Intel both saw their sales exceed $1 billion for the first time, and delivered more than 25 percent revenue growth. Seven of the eleven brands that saw sales exceed $1 billion saw positive growth in 2014, and only one - IBM - has a negative four-year CAGR for sales through the IT channel.
"Two straight years of mid-single digit growth show that vendors recognize the value of the channel, and that going forward the channel is well-positioned to continue to offer substantial growth opportunities across the board," added Baker.
About The NPD Group, Inc.
The NPD Group provides market information and business solutions that drive better decision-making and better results. The world's leading brands rely on us to help them get the right products in the right places for the right people. Practice areas include automotive, beauty, consumer electronics, entertainment, fashion, food / foodservice, home, luxury, mobile, office supplies, sports, technology, toys, and video games. For more information, visit npd.com and npdgroupblog.com. Follow us on Twitter: @npdgroup.