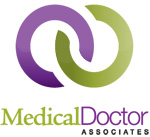 At MDA, we always keep in mind that there is a patient at the end of every placement that we make, and it drives the level of service that we provide.
Atlanta, GA (PRWEB) March 06, 2015
Further solidifying their position as a healthcare staffing industry leader, Medical Doctor Associates announced today that the company has earned Inavero's Best of Staffing® Talent Diamond Award after winning the Best of Staffing Talent Award five years in a row. Presented in partnership with CareerBuilder, Inavero's Best of Staffing Talent Diamond winners are proven industry leaders in service quality based on the ratings given to them by the individuals they have helped find temporary and permanent jobs. With satisfaction scores more than three times higher than the industry average, Best of Staffing Award winners make up less than two percent of all staffing agencies in the U.S. and Canada.
Focused on helping to connect people with the right opportunities to further their careers, Medical Doctor Associates received satisfaction scores of 9 or 10 out of 10 from 79% percent of their placed job candidates, significantly higher than the industry's average of 51 percent.
"At MDA, we always keep in mind that there is a patient at the end of every placement that we make, and it drives the level of service that we provide. We care for the needs of healthcare professionals and facilities so that they can provide care and comfort to others," said Frank Phillips, president of MDA. "We are honored that the healthcare providers we work with have recognized us in this way for five years running, and we aim to earn a place on the Best of Staffing Talent list for many years to come."
"With a tightening labor market and a need for growing companies to stay flexible, staffing agencies are placing more people into employment opportunities than at any other point in U.S. history," said Inavero's CEO, Eric Gregg. "More companies and job seekers than ever before need a staffing agency with a proven commitment to service excellence. Bestofstaffing.com is the place to find winning agencies working in your city and area of expertise. We are incredibly proud of the accomplishment of our 2015 award recipients."
About MDA
Established in 1987, Medical Doctor Associates is one of the largest medical staffing firms in the U.S., specializing in locum tenens staffing services and providing recruiting expertise for all physician and advanced practice specialties. MDA is the largest national multi-specialty locum tenens company that offers occurrence form malpractice insurance to providers. The company is headquartered outside of Atlanta in Berkeley Lake, Georgia with regional offices in Dallas, Texas and Troy, Michigan, as well as multiple staffing consultants strategically located throughout the nation. MDA is a part of Cross Country Healthcare, Inc. (Nasdaq: CCRN), a leading provider of workforce solutions, recruiting and staffing services. For more information about MDA, visit http://www.mdainc.com, call 800.780.3500 x52163 or email pressrelease(at)mdainc(dot)com.
About Cross Country Healthcare
Cross Country Healthcare, Inc., headquartered in Boca Raton, Florida, is a national leader in providing healthcare recruiting, staffing and workforce management solutions. With more than 30 years of experience, we are dedicated to placing highly qualified nurses and physicians as well as allied health, advanced practice and case management professionals. We provide both retained and contingent placement services for physicians, as well as retained search services for healthcare executives. We have more than 6,000 active contracts with a broad range of clients, including acute care hospitals, physician practice groups, nursing facilities, rehabilitation and sports medicine clinics, government facilities, as well as nonclinical settings such as homecare and schools. Through our national staffing teams and network of more than 70 branch office locations, we are able to place clinicians for travel and per diem assignments, local short-term contracts and permanent positions. We are a market leader in providing flexible workforce management solutions, which include managed services programs, workforce assessments, internal resource pool consulting and development, electronic medical record transition staffing and recruitment process outsourcing. In addition, we provide education and training programs for healthcare professionals through seminars and e-learning tools.
About Inavero
Inavero administers more staffing agency client and talent satisfaction surveys than any other firm in the world. Inavero's team reports on over 1.2 million satisfaction surveys from staffing agency clients and talent each year and the company serves as the American Staffing Association's exclusive service quality partner.
About Inavero's Best of Staffing
Inavero's Best of Staffing® Award is the only award in the U.S. and Canada that recognizes staffing agencies that have proven superior service quality based completely on the ratings given to them by their clients and job candidates. Award winners are showcased by city and area of expertise on BestofStaffing.com – an online resource for hiring professionals and job seekers to find the best staffing agencies to call when they are in need.