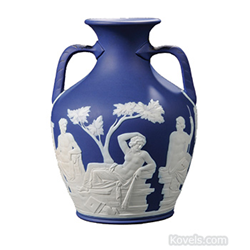 Cleveland, OH (PRWEB) March 05, 2015
Kovels' Top 20 list of antiques and collectibles is based on the results of hundreds of thousands of searches that took place on Kovels.com. During February 2015, collectors found for prices for: 1) Fenton, 2) Occupied Japan, 3) Coca-Cola, 4) Wedgwood, 5) Bavaria, 6) Dinnerware, 7) McCoy, 8) Stove, 9) Delft, 10) Depression Glass, 11) Capo-Di-Monte, 12) Lamps, 13) Hull, 14) Satsuma, 15) Banks, 16) Lighters, 17) Belleek, 18) Pepsi-Cola, 19) Scales, and 20) Haeger.
Did you know …
1. Occupied Japan (No. 2) collectibles were never sold in Japan. Toys, dishes and other goods marked "Occupied Japan" were made during the American occupation of Japan after World War II, from 1947 to 1952, for the export market only.
2. Wedgwood's (No. 4) Josiah Wedgwood (1730-1795), had a disability and was almost not hired by his brother to work in the family pottery. A childhood struggle with smallpox left him with a weak knee and he wasn't able to operate the foot pedal of a potter's wheel. He focused instead on other aspects of pottery—design, glazes and production methods. The leg was eventually amputated and replaced with a wooden one. Wedgwood became one of the most famous potters of all time and the rest is history.
3. Delft (No. 9), a type of tin-glazed pottery most think is made in Holland, but it isn't always. Early delft was made in Holland and in England during the 18th century. By 1990, blue and white pottery with Dutch scenes was made in Asia and Germany, but still marked Delft. Only one Dutch company remains that makes traditional old-style delft.
4. Depression glass (No. 10) is a type of inexpensive glass made in the 1920s and '30s. It was often given away at movie matinees during the lean years of the Great Depression. It wasn't called Depression glass then—the name Depression glass is a modern one, coined by collectors.
5. Belleek (No. 17) isn't always Irish. The first Belleek was made in Ireland in 1857. Pieces made by American companies, including Ceramic Art Co., Lenox, Knowles, Taylor & Knowles, Ott & Brewer and Willets had a similar creamy yellow wet-looking glaze also called belleek. But in 1929, a court ruled that only the Irish company could use the word Belleek with a capital "B." Others had to use belleek with a lowercase "b" in their marks and ads.
Collectors who go to Kovels.com can buy knowing the identifying features, marks and prices of antiques and collectibles. Kovels.com and the book, "Kovels' Antiques and Collectibles Price Guide," list thousands of collectibles in hundreds of categories that are described, edited, priced and pictured.
Terry Kovel is America's foremost authority on antiques and collectibles. She is the well-known columnist and author of more than 100 books on antiques and collecting. With her daughter, Kim Kovel, she co-authors the best-selling annual "Kovels' Antiques and Collectibles Price Guide." The 2015 edition is now available in bookstores and online. They will discuss antiques and collectibles topics with accredited media. Photographs are available. Contact pr(at)kovels(dot)com.
About Kovels.com
Kovels.com, created by Terry Kovel and Kim Kovel, provides collectors and researchers with up-to-date and accurate information on antiques and collectibles. The company was founded in 1953 by Terry Kovel and her late husband, Ralph. Since then, Kovels' Antiques has written some of America's most popular books and articles about collecting, including the best-selling "Kovels' Antiques and Collectibles Price Guide," now in its 47th edition. The website, Kovels.com, online since 1998, offers more than 1 million free prices, and includes a free weekly email, "Kovels Komments." It gives readers a bird's-eye view of the market through the latest news, auction reports, a Marks Dictionary, readers' questions and answers, and much more.
Contact Information:
Liz Lillis
216.752.2252
Pr(at)kovels(dot)com