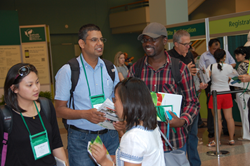 St. Paul, Minn. (PRWEB) March 05, 2015
Plant disease specialists from around the world will meet in Pasadena this summer at the Annual Meeting of The American Phytopathological Society. Details of the program are starting to be released online now at APSnet.org/meet.
The Preliminary Daily Schedule has just been announced for the meeting, to be held August 1-5, 2015 in Pasadena, California, U.S.A. The program includes newly announced Special Sessions, Field Trips, Workshops, and committee meetings, all carefully balanced to deliver in-depth science and unmatched opportunities for discussion and collaboration.
Plant pathologists are also invited to share their research at the APS Annual Meeting. Abstract submissions are due by March 16, and meeting registration opens in late March.
At the 2014 joint American & Canadian APS-CPS Annual Meeting, 1,550 attendees from 48 countries had the choice of attending 350+ presentations, and the opportunity to meet with authors of 600+ scientific posters. Discussion formats like PhytoViews, Poster Huddles, and Idea Cafés were also offered to facilitate the exchange of science in small-group settings.
APS is an international scientific organization devoted to the study of plant diseases and their control.
APS members conduct important fundamental research that ultimately leads to the development of new products, equipment, methods, and services. They also work directly with the growers on the front lines of plant health management. Their work in research and applied plant pathology also influences the success of industry products and services.