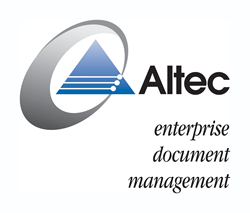 Sage ERP Document Management by Altec is the exclusive endorsed document management solution for Sage 100 ERP, Sage 300 ERP and Sage 500 ERP.
Laguna Hills, CA (PRWEB) March 05, 2015
Altec Products, Inc., a leader in enterprise document management and workflow solutions, announced today their participation in the Houston, TX and Charlotte, NC conferences of the Sage Inspire Tour 2015. The Inspire Tour will unite Sage enterprise resource planning (ERP) software users with experts who will share ideas about workable solutions to real-world business challenges.
The Houston, TX event will take place at the Crowne Plaza Houston Galleria Area on March 10th. The Charlotte, NC conference will occur two days later at the Charlotte Convention Center on March 12th. Both locations offer full agendas including informative breakout sessions, engaging speakers, networking events and a final raffle. Attendees will benefit from opportunities to learn how to improve customer service and loyalty as well as how to take advantage of Sage plans for 2015.
Sage ERP Document Management by Altec is the exclusive endorsed document management solution for Sage 100 ERP, Sage 300 ERP and Sage 500 ERP. It eliminates a company's need to file documents by automating and streamlining business processes. With Sage ERP Document Management by Altec, companies remove workflow bottlenecks and optimize their Sage ERP solutions to save money and time within any department and any process.
Altec looks forward to joining the local Sage communities in Houston and Charlotte. Altec Sales Director Tony Choquehuanca, who will attend the Houston conference, comments, "I am excited to speak with attendees interested in discovering how an organization can marry an integrated document management solution and ERP solution to achieve business growth without increasing staff." Altec Sales Director Laura Lechien will join the Charlotte conference. She comments, "I took look forward to connecting with attendees; the Inspire Tour is such a valuable experience for everyone who attends."
The calendar of remaining Inspire Tour stops is listed below:

April 7, 2015 in Chicago, IL
April 9, 2015 in Cleveland, OH
April 21, 2015 in New York, NY
May 19, 2015 in Toronto, ON
May 21, 2015 in Montreal, QC
About Altec
Altec is a leading provider of Integrated Document Management (IDM) solutions to mid-market companies. For more than 30 years, Altec has provided a wide range of accounting-centric paper to paperless solutions including its flagship product, Sage ERP Document Management, which enables companies to capture, archive, workflow and route structured and unstructured documents to customers, employees and vendors. Altec's comprehensive solutions include IDM, output management, MICR check disbursement and paper documents that serve more than 13,000 customers worldwide. Altec enjoys strong, collaborative partnerships with ERP solution providers like Sage Software to provide the most comprehensive, integrated enterprise document management solution. Altec delivers its IDM solutions through a global network of authorized partners in more than 60 countries throughout the Americas, EMEA and Asia Pacific. Visit Altec at http://www.altec-inc.com or call April Blankenship at 1-800-997-9921.
About Sage
Sage is a world-leading supplier of accounting and business management software to start-up, small, and midsized businesses. Our purpose is to help our customers run their businesses more effectively—helping them gain greater insight into their business activities and providing them with lasting benefits by automating their business processes. Our applications cover a wide range of business requirements, including accounting, customer relationship management, contact management, human resources, warehouse management, and specialized products for specific industries. Sage North America has more than 3.2 million customers with offices across the U.S. and Canada. Our corporate office is located in Irvine, California.
# # #