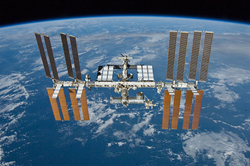 Then VSee came along with a new approach to handling challenged networks such as those we deal with during ISS operations.
Sunnyvale, California (PRWEB) March 14, 2015
The National Aeronautics and Space Administration] (NASA) has officially selected VSee to provide secure video conferencing on board the International Space Station (ISS). VSee will allow astronauts on the ISS to video chat with their doctors and family, collaborate with other scientists, and do public outreach with school children. Astronauts will use VSee on both laptops and iPads.
"This is both a huge opportunity and a great honor for VSee," said Dr. Milton Chen, CEO of VSee. "I am very grateful for the opportunity to serve NASA and to work with their team." Most video conferencing systems are complex. In contrast, VSee makes video collaboration simple.
Initially, the Johnson Space Center (JSC) Mission Control Research group prototyped VSee for mission control. Then NASA Space Medicine group explored using VSee for space telemedicine projects. VSee was also part of the NASA Chief Technology Officer (CTO) Community Desktop Videoconferencing prototype program.
The ISS has been in orbit around the earth since 1998. It is approximately 240 miles above the earth's surface, orbiting in a path that covers 90 percent of the world's population. The space station travels at a speed of 17,500 miles per hour and covers the equivalent distance to the Moon and back in one day.
NASA SELECTS VSEE VIDEO PLATFORM
"Before VSee, NASA had been using the same video conferencing technology based on the early generation of hardware-based solutions to conduct its two-way video conferences with ISS crewmembers since the early ISS and Shuttle missions." said Byron Smith, Senior Medical IS Engineer at Wyle.
"As the rest of the terrestrial industries began to make use of the newer generation of software-based Internet Protocol (IP) video conferencing technologies, NASA had to continue to use the older generation of technology because, believe it or not, it was still the only solution that could adequately handle some of the unique challenges of space to ground communications," he added.
Smith explained that the relatively long round-trip satellite communication latencies in addition to the regular loss of communications caused many of the newer generation of Commercial-Off-The-Shelf (COTS) video conferencing technologies to operate poorly and in many instances even fail. "Then VSee came along with a new approach to handling challenged networks such as those we deal with during ISS operations."
Early ISS missions required specialized audio and video codecs, and recording hardware in order to bridge the legacy flight video conferencing system with the newer agency ground-based video conferencing systems. This required increased personnel and support costs to maintain. Moving to a newer IP-based video conferencing system, such as VSee, now allows NASA to use lower cost, standard COTS Personal Computer (PC) hardware to support their ISS related video conferences.
In addition, because VSee uses standard IP networks, it also allows NASA to take advantage of tighter systems integration and compatibility when interfacing with their legacy and other newer enterprise agency video conferencing systems allowing the use of other mobile devices by remote support personnel and crew families anywhere in the world. NASA may eventually phase out their older ISS related audio/video codecs and recording hardware altogether.
Smith noted,"Now, not only does VSee provide an enhanced replacement for our current capability to support secure, two-way, private medical consultations and family conferences with our ISS crewmembers, but it also provides a significant increase in our ability to support some of our other telemedicine and science objectives such as remote clinical guidance, device monitoring and control, and just-in-time training and distance learning."
ABOUT VSEE
VSee is the largest video telemedicine platform, combining HIPAA secure video chat, EMR screen share, and medical device streaming. VSee has a simple OneClick video waiting room; advanced features include scheduling, call routing/triage, online payment, and ePrescribe. VSee also has ready-to-go telemedicine kits and carts with plug-and-play medical peripherals for instant mobile clinic setup anywhere. See VSee telemedicine for refugees in Iraqi Kurdistan. VSee investors include Salesforce.com. VSee has been used by Hillary Clinton, Angelina Jolie, the rock band Linkin Park, as well as President Obama's security team during his Inauguration.