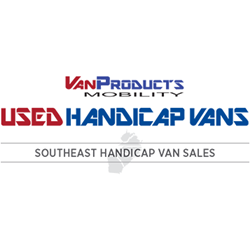 "Our goal is to offer our customers the same level of safety and accessibility in a quality, used handicap van as they would find in a new handicap van.."
Raleigh, NC (PRWEB) March 06, 2015
Van Products is excited to announce the launch of its new website, Used Handicap Vans.
The new website is targeted at helping disabled individuals, veterans and families gain access to affordable, high quality used handicap vans and other mobility accessories.
More Choices in Used Wheelchair Accessible Vans
The Used Handicap Van website features a large inventory of certified, pre-owned wheelchair vans as well as newer model used wheelchair vans. Customers can choose among different manufacturers, makes, models, and wheelchair van conversion types.
Besides shopping for a used wheelchair accessible van, the website offers different options for mobility equipment, which may be customized according to the customer's particular disability or mobility challenges.
Van Products CEO, Tim Harrell, commented on the new website, saying:
"Our goal is to offer our customers the same level of safety and accessibility in a quality, used handicap van as they would find in a new handicap van – but at a price point that fits into their budget better. As industry experts, we also want to be a valued resource for them- before, during, and after the buying process."
Used Handicap Vans: Improving Mobility in the U.S.
The Used Handicap Van site allows customers to browse the online inventory of used handicap vans, select different features and upgrades to add, and contact a mobility specialist to place an order.
The site also features a simplified way to save vehicles to a list (so that browsing customers can come back to saved searches later); and customers also have the option to compare different vehicles within the site. Other features of the Used Handicap Vans website include (but are not limited to):

Information about financing a used handicap van
Opportunities for Veterans to save on purchasing a used handicap van
Information on selling a modified/unmodified van to Van Products
Information on handicap van conversions
Mobility Equipment
And More!
Why People Choose Used Handicap Vans
#1 – BUDGET
There are countless reasons why customers choose to purchase a used handicap van versus a new one. For many people, buying a certified, used handicap van is a more affordable alternative, simply because their budget may not allow for a brand new conversion van.
#2 – SHORT TERM USE
Some customers do not want to invest in a brand new handicap van because they know they'll only need a wheelchair van for a short period of time (ex: recovering from an injury). The Used Handicap Van site offers a wide range of makes, models, mileages and price points to fit specific budgets.
With the Used Handicap Van website officially launched, Van Products is looking forward to serving even more families and people in need by providing them with high quality, affordable used wheelchair accessible van options.
About Used Handicap Vans
Used Handicap Vans is a subsidiary of Van Products. Over the years, Van Products has become an industry leader in the Southeast United States, serving the handicap van and mobility products needs of people all the way from West Virginia down to Georgia.
Our mission is to provide families and individuals who have special needs with quality handicap conversion vans, products and services that are safe, reliable, and affordable. Learn more about Used Handicap Vans at http://www.usedhandicapvans.com, follow Used Handicap Vans on Twitter (@UsedHandicapVan), or become a fan on Facebook at https://www.facebook.com/UsedHandicapVans