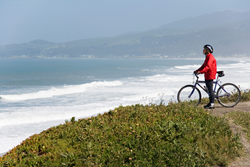 Half Moon Bay, California (PRWEB) March 06, 2015
Guests and local residents are invited to celebrate Earth Day with a guided bicycle ride along the Coastal Trail on Wednesday, April 22. The two and half hour ride begins at 10 a.m. or 2 p.m. Led by The Ritz-Carlton, Half Moon Bay's recreation team, the ride is $50 per person.
The Coastal Trail runs parallel to the Pacific Ocean and offers sweeping views of the surf and Northern California coast. The six-mile paved trail runs from Pillar Point Harbor to Poplar Avenue in Half Moon Bay and provides access to several beaches, excellent nature viewing, and remarkable bird watching. Red-tailed hawks, blue herons and red-winged blackbirds are spotted frequently, and large hawks can often be seen perched on the fence along the trail. Just north of the resort is Half Moon Bay State Beach, home of the world-famous Mavericks, a surfing spot near Pillar Point that is visible from the trail. Other points of interest along the trail include Half Moon Bay Harbor, Dunes Beach and Moss Beach Park.
The Ritz-Carlton, Half Moon Bay's Earth Day Bicycle Ride complements a full roster of activities offered at the coastal resort. Other activities include hiking on nearby trails, Segway Tours, surfing, horseback riding, playing golf on one of the two championship courses at the adjoining Half Moon Bay Golf Links, and a variety of spa and fitness options at the resort's 16,000-square-foot spa.
About The Ritz-Carlton, Half Moon Bay
Situated 23 miles southwest of the San Francisco International Airport, The Ritz-Carlton, Half Moon Bay is a 261-room destination spa and golf coastal resort and the San Francisco Bay Area's only oceanfront resort. Set atop a rugged bluff overlooking 50 miles of pristine California coastline, the timeless oceanfront estate provides guests with a relaxed yet refined experience, whether for a romantic getaway, meeting or special event. For more information on fall activities, please contact The Ritz-Carlton, Half Moon Bay at 650-712-7000. For room reservations, contact your travel professional, visit http://www.ritzcarlton.com/hmb or call Ritz-Carlton worldwide reservations at 800-241-3333. Visit http://www.experiencehalfmoonbay.com to learn more about the destination.
About The Ritz-Carlton Hotel Company, L.L.C.
The Ritz-Carlton Hotel Company, L.L.C., of Chevy Chase, Md., currently operates 88 hotels in the Americas, Europe, Asia, the Middle East, Africa, and the Caribbean. More than 30 hotel and residential projects are under development around the globe. The Ritz-Carlton is the only service company to have twice earned the prestigious Malcolm Baldrige National Quality Award which recognizes outstanding customer service. For more information or reservations, visit the company web site at http://www.ritzcarlton.com, and for the latest company updates, visit news.ritzcarlton.com. The Ritz-Carlton Hotel Company, L.L.C. is a wholly-owned subsidiary of Marriott International, Inc. (NASDAQ:MAR).