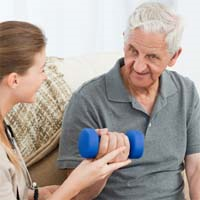 A concomitant limitation of mobility was observed in five out of the seven subjects.
Raleigh, NC (PRWEB) March 06, 2015
In a new study conducted at a Warsaw hospital, a small percentage of Polish mesothelioma patients reported that shoulder pain was their first mesothelioma symptom. Surviving Mesothelioma has just posted the full story on its website. Click here to read it now.
Doctors at the Central Clinical Hospital in Warsaw analyzed the medical records of 49 mesothelioma patients between 2006 and 2012 and found that 14% of them reported that it was shoulder pain that first prompted them to see a doctor. For some, shoulder movement was also a problem.
"A concomitant limitation of mobility was observed in five out of the seven subjects," writes lead author Jacek Lorkowski. "In one case, limitation of motion and dysfunction of the shoulder joint were at an advanced stage."
The report, published in Advances in Experimental Medicine and Biology, found that two of the mesothelioma patients also experienced neuralgia, a stabbing pain that can occur with a damaged nerve.
"The message here for people with a history of asbestos exposure is that no unusual symptom should be ignored or disregarded simply because it is not a 'typical' mesothelioma symptom," says Surviving Mesothelioma's Managing Editor, Alex Strauss.
Mesothelioma is an asbestos-linked cancer that grows on the lining that surrounds the lungs. The most common early mesothelioma symptoms are chest tightness or pain, cough, shortness of breath, and weight loss.
For further explanation of why mesothelioma may cause shoulder pain and information about other signs and symptoms of mesothelioma, see Shoulder Pain: An Early Symptom of Mesothelioma? now available on the Surviving Mesothelioma website.
Lorkowski, J et al, "Shoulder Ring Complaints as a Rare First Symptoms of Malignant Pleural Mesothelioma", February 28, 2015, Advances in Experimental Medicine and Biology, Epub ahead of print, http://link.springer.com/chapter/10.1007%2F5584_2015_113.
For nearly ten years, Surviving Mesothelioma has brought readers the most important and ground-breaking news on the causes, diagnosis and treatment of mesothelioma. All Surviving Mesothelioma news is gathered and reported directly from the peer-reviewed medical literature. Written for patients and their loved ones, Surviving Mesothelioma news helps families make more informed decisions.