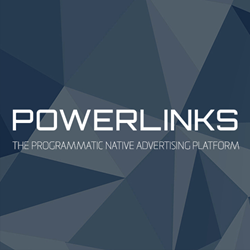 The adoption of an industry standard for Native Programmatic integrations will help PowerLinks to further our goal of connecting the native landscape and enabling transparency, flexibility and scale for buyers and sellers.
Mobile World Congress, Barcelona, Spain (PRWEB) March 05, 2015
PowerLinks, the programmatic native advertising platform, today announced the release of Native In-App buying capabilities across its DSP and Exchange platforms. The release comes following the ratification of the new IAB OpenRTB 2.3 standards, which establish industry guidelines for handling native ads programmatically. PowerLinks is simultaneously releasing full support of the new OpenRTB standards for Native Advertising, enabling current and future integrations to conform with standards for buying and selling native ads.
The new In-App solution enables buyers to access In-Feed and In-Stream inventory at scale, leveraging a single set of creative assets to deliver uniquely native and custom ad experiences across thousands of premium mobile apps and publishers.
The addition of In-App Native sets PowerLinks apart as the only programmatic platform to support all six IAB Native formats and layouts across all devices, including In-Feed, In-Stream and Recommended Content inventory, alongside several unique and custom formats.
For the initial In-App launch, PowerLinks has partnered with PubMatic, the largest independent software provider enabling the programmatic advertising strategies of publishers. The global partnership provides buyers with access to native inventory surfaced by PubMatic's premium US and EMEA publisher base across in-app and mobile web for open and Private Marketplaces. This follows PubMatic's recent announcement of the availability of programmatic native advertising as part of its One Platform for publishers.
PowerLinks will be rolling the In-App and OpenRTB support across all buyers and sellers on the platform, and will announce several new partnerships with leading SSPs and Networks in the coming months.
With the release, new features will enable platform buyers to target and optimize In-App campaigns with first and third party data, geo and device data alongside PowerLinks' proprietary keyword-level contextual and audience interest data. The comprehensive control and targeting features provide advertisers a simple way to access every type of native advertising format to meet both brand and DR objectives across all screens and platforms.
PowerLinks' completely open and customizable full-stack technology now enables DSPs, Trading Desks, content marketers and non-standard platforms to connect into the Programmatic Native marketplace with In-App support; providing the foundations for many businesses to build and scale unique solutions for Native and In-App advertising.
Kevin Flood, CEO of PowerLinks said: "Native Advertising is proven as a highly effective strategy for brands to engage their audiences, especially in mobile environments. The addition of In-App capabilities across the platform will enable advertisers to engage audiences across all devices seamlessly. The opportunity for advertisers to leverage diverse mobile specific data points in real time, across thousands of unique mobile sites and apps, whilst delivering a highly native and responsive user experience is a perfect storm. Native advertising on mobile devices is set for significant growth throughout 2015 and we are excited to be part of the shift towards genuinely built-for-purpose marketing".
Furthermore, Kevin said of the IAB's Native OpenRTB, "The adoption of an industry standard for Native Programmatic integrations will help PowerLinks to further our goal of connecting the native landscape and enabling transparency, flexibility and scale for buyers and sellers."
Speaking of the international opportunity, Mike Bergen, CEO of Netherlands-based EEZY RTB said: "The integration of PowerLinks with PubMatic offers clients such as Sony, Allianz and advertisers across Europe the opportunity to engage highly targeted mobile audiences at scale. As native and mobile advertising are becoming an ever more important part of our clients' programmatic strategy, the combination will result in a highly effective channel to drive brand awareness and sales. We look forward to helping our clients to get the maximum results from this powerful combination."
###
About PowerLinks
PowerLinks is the leading global platform for Programmatic Native Advertising. The platform connects buyers and sellers of Native Ads, powering custom exchanges, marketplaces and Real Time Ad Serving. PowerLinks' unique technology enables sponsored content, Ecommerce, search advertising and video to be delivered across all devices, providing flexibility for media owners and marketers to transform their revenues. The company was founded by Kevin Flood and Mike Harty in 2012 and has offices in New York and London. PowerLinks was named as a winner in OnMedia's Top 100 Private Companies 2014.
Contact
Rachael Whalley, Communications Director
rachael(at)powerlinks(dot)com
T: +1 (646) 741 6115
About PubMatic
PubMatic is the technology platform that powers the programmatic advertising strategy of leading publishers and premium brands. Its innovative solutions help content providers drive the highest value for their digital media assets and provide consumers with a more personalized advertising experience across display, mobile and video. PubMatic's One Platform, proprietary technology, and advanced mobile capabilities are utilized by a global roster of comScore publishers. Pioneering online auctions for the buying and selling of media through Real-Time Bidding (RTB) and Private Marketplace (PMP), the company also works with hundreds of advertising partners. Ranked by Deloitte as one of the fastest growing companies in the US Internet sector in 2012, 2013 and 2014, PubMatic has offices worldwide with headquarters in Redwood City, California.
Contact
Paige F. MacGregor, Corporate Communications Manager
paige.macgregor(at)pubmatic(dot)com
T: +1 (917) 848 3584