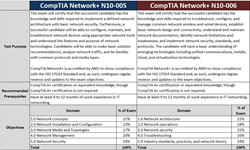 New York, New York (PRWEB) March 05, 2015
NetCom Learning, the experts in business and IT learning solutions, wants to ensure that information technology professionals and individuals entering the IT profession, are aware of changes to one of CompTIA's core training certifications. In February 2015, CompTIA launched a new version of their popular Network+ certification including a new certification exam. The new version N10-006 replaces the former exam N10-005 which will be retired in August 2015. The new version has been revised to take into consideration new technologies and to put more of an emphasis on practical working knowledge including being able to identify and utilize all network infrastructure elements. Network+ is a vendor neutral training and is recognized as an important entry level networking certification that is often an individual's first professional IT certification.
"It is important that individuals looking to enter the field of IT and working IT professionals understand the changes in CompTIA's revisions to Network+," said Russell Sarder, CEO of NetCom Learning.
CompTIA's Network+ certification is ISO compliant and the coursework provides individuals with the skills they need be involved in creating, managing and securing data networks. The certification is currently held by almost a half a million individuals on an international basis. The new Network+ certification exam N10-006 places more of an emphasis on troubleshooting skills, data network protection and IT security, administration of network systems and includes additional Ipv6 concepts. The Bureau of Labor Statistics predicts a 12% job growth in the area of Network and Computer Systems Administration through 2022, and the Network+ certification is one of the most important ways to take advantage of new job opportunities in IT.
NetCom Learning, as an authorized CompTIA platinum partner, offers several CompTIA courses including CompTIA A+, Network+ and Security+. Training can be taken separately or in intensive combination bootcamps which combine coursework and offer the attendees the possibility of earning multiple certifications. Check out NetCom Learning CompTIA's network training options at http://www.netcomlearning.com/products/136/CompTIA-Network+-training.html
Benefits of taking technical training with NetCom Learning
NetCom Learning is the most trusted name in both business and IT training and offers top notch instructors with an average of 16 years of experience and vendor approved coursework offering certification preparation for a variety of vendor certifications. NetCom Learning instructors routinely achieve high ratings from their students and possess an average of 20.5 years of experience and a cumulative average of more than 10,500 years' experience in the field of their expertise. Instructors carry an average instructor evaluation of 8.6 out of 9, one of the highest instructor evaluations in the industry. The high quality of training has resulted in over 2,150 testimonials and a 96% customer satisfaction rate with those customers indicating they would recommend NetCom Learning to others.
About NetCom Learning
NetCom Learning is an innovative leader in IT, business and executive training to companies, individuals, and government agencies. Since its inception in 1998, NetCom Learning has trained over 71 percent of the Fortune 100, serviced over 50,000 business customers, and advanced the skills of more than 81,000 professionals through hands-on, expert-led training, with the organization maintaining an average instructor evaluation score of 8.6 out of 9. NetCom Learning was recognized by Microsoft Corporation as its Worldwide Training Partner of the Year and named thrice to Inc. Magazine's list of fastest growing private companies in America. The organization was also recently named to the 2012 Top 20 IT Training Companies by TrainingIndustry.com and was named "Company of the Year" by the American Business Awards.
Like us on Facebook! https://www.facebook.com/netcomlearning.
Follow us on LinkedIn: http://www.linkedin.com/company/netcom-learning
The purpose of NetCom Learning is to promote the values of lifelong learning
For more information on SMART Collaboration Training or other NetCom Learning classes go to http://www.netcomlearning.com or Call us toll-free at 1-888-563-8266.
Contact:
Marketing Manager
NetCom Learning
20 West 33rd Street
4th Floor
New York, NY 10001
Phone: (212) 629-7265
Fax: (212) 947-5462
marketing(at)netcomlearning(dot)com
NetCom Learning: Passionate about Learning™