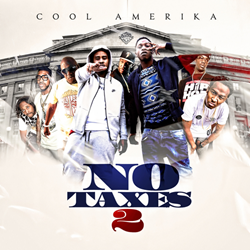 Atlanta, GA (PRWEB) March 05, 2015
Coast 2 Coast Mixtapes and Alliance Music Group proudly presents Cool Amerika's "No Taxes 2" Hosted By Bigga Rankin, Dj Scream, Dj Holiday, Dj Blak, Dj Tokars, Ferrari Simmons. This project is currently available to stream and download on the Coast 2 Coast Mixtapes website.
This mixtape is much more than a collection of music co-signed by the biggest names in the industry, Its an experience. Join Cool Amerika on a wild ride throughout their day as they kick off No Taxes 2 with the "Ultimate Stamp" from Bigga Rankin & Dj Scream and then take you with them as they slide through the radio station to link with Dj Holiday and Ferrari Simmons from there to the club with Dj Blak to show out then the after hours with Dj Tokars (The Mayor of the Streets), They enlisted Buddah Bless, Zaytoven, Cassius Jay and Ka$hif to provide the sound track. Look out for some heavyweights to make their cameos, Nipsey Hussle, Young Dolph, Kevin Gate, Rocko, Drama, Offset (Migos) and ChoCho help make this day in the life a musical journey you wont soon forget!
Cool Amerika, a hip-hop group that has emerged from East Atlanta, is made up of artists' Bally Baby and Stunt. Their group name is an acronym for "Collective Of Outspoken Lyricists Armed Meticulous Entertaining Kempt Artists", which best describes generation nexts' most original tandem. It was the love of making music and high-end fashion that originally brought this pair together. However, it would be their "lingo" and intoxicating "stage presence" that would lead to them to sign with "Hotlanta's" fastest rising record label, Alliance Music Group (AMG).
When was the last time a rap group, or any other duo for that matter, possessed the rare ability to thoroughly entertain all audiences, enlightening them at the same time in which C.O.O.L A.M.E.R.I.K.A does, with frequent regularity? "Every song gone hit, and everything we do gon' catch…" says the dynamic duo. Releasing their new single "Make Sum Shake", they have already received great feedback from the community. An electronic, eclectic hip-hop mix combined with a funky dance beat, this track is sure to please avid listeners and club-goers everywhere.
To keep up with Cool Amerika, follow them on Twitter at @1coolamerika.
About Coast 2 Coast Mixtapes
Coast 2 Coast Mixtapes are the most widely distributed mixtapes in the world, with over 100 million downloads/plays generated by over 200 volumes officially hosted by major artists. Coast 2 Coast has a solid reach in the new music industry with a digital magazine, DJ coalition, industry tips blog, yearly convention, and more. Coast 2 Coast Mixtapes represents a unique opportunity for artists of all urban genres, from major to indie. For more information, visit http://www.coast2coastmixtapes.com.