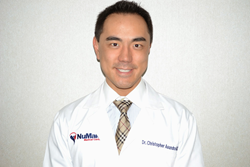 The FDA appears to have developed a case of "premature equivocation" on testosterone replacement therapy
(PRWEB) March 04, 2015
Dr. Christopher Asandra, M.D., Founder and Chief Medical Officer of NuMale Medical Center today lamented the FDA's recent decision to issue a warning on testosterone replacement therapy (TRT). He argued that FDA's conclusions are not supported by science, and that the warning could harm men who suffer from testosterone deficiency.
"The FDA appears to have developed a case of "premature equivocation" on testosterone replacement therapy," said Dr. Asandra. "There is not nearly enough evidence to support the FDA's conclusions on TRT, and this warning could harm men suffering from legitimate medical conditions. With more scientific evidence indicating preventative and protective benefits effect from the use of testosterone, as opposed to increased risk, the FDA should have waited for more information before jumping into the media circus around testosterone."
In a recent scientific review published in the Mayo Clinic Proceedings, a team led by Harvard Medical School Professor Dr. Abraham Morgentaler looked at TRT and cardiovascular risk. The review, released in January 2015, found that there is no real evidence supporting the purported risks. Instead, the authors illustrated that existing literature indicates a strong relationship between higher serum testosterone concentrations and lower cardiovascular risk factors.
Similarly, the European Medicines Agency agreed late last year that there is no consistent evidence of an increased risk of heart problems with testosterone medicines in men who suffer from a deficiency. That agency also noted that lack of testosterone in men could increase the risk of heart problems.
About NuMale Medical Center
NuMale Medical Center is a leading national provider of customized, comprehensive treatment for male sexual dysfunction and enhancement. NuMale helps men suffering from erectile dysfunction (ED), low testosterone (Low-T), premature ejaculation and low sex drive, utilizing a wide range of the most highly respected, FDA-approved treatments. NuMale's innovative services include bio-identical hormone replacement, medical weight loss, NeoGraft hair restoration and the Priapus procedure. Founded and led by accomplished physician Dr. Christopher Asandra, NuMale Medical Center has expanded rapidly since its founding in 2013, with eleven facilities nationwide and many more to come.