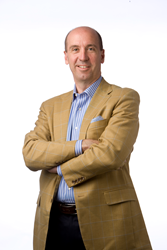 As robots continue to getter better and more affordable, expect the technology to continue to move from the large corporate farms to even the smallest of family farms and, in the process, it will transform agriculture as we know it.
Indianapolis, IN (PRWEB) March 05, 2015
In his article entitled, "Big Data: Agriculture's Moneyball," Matthew Erickson says, "agriculture's fast-paced technological advancements are getting the industry in the game of leveraging data. Making certain that farmers are aware of how a specific company intends to use their data is paramount. The 21st century view of the world is changing through the use of data analytics and real-time information to satiate an information-hungry society. With less land to farm and more mouths to feed around the world, doing more with less has to be the focal point in agriculture. The use of data and innovative technologies," states Erickson, "will be one of the tools to help us achieve the goal of feeding 9 billion people by 2050." Global futurist and agricultural trend expert Jack Uldrich absolutely concurs.
"Agriculture is changing at an astounding pace," says Uldrich, who has his finger on the pulse of these rapid shifts. Uldrich regularly addresses ag based audiences such as the Minnesota Dairy Council, Land O'Lakes, Case IH, The Agricultural Adaptation Council of Ontario, AgGateway, the California Ag Summit, Trimble Agriculture, InfoAg, the Minnesota-South Dakota Equipment Dealers Association. According to Uldrich, Big Data, prescriptive planting, precision agriculture, urban agriculture, and robotics are just a few of the game-changing trends in agriculture today.
He says, "Future scenarios in agriculture might go something like this: 'On a 7,000-acre farm in California, a large combine drives itself with sub-meter accuracy and lays down fertilizer only in areas predetermined to need additional nutrients by the device's yield mapping software. Half a world away, on a rooftop in Berlin, Germany, sits an aquaponic farm that produces both vegetables and fish. It uses the fish waste to fertilize the plants, and the plants to purify the water. Both trends, in their separate ways, foreshadow how the agriculture industry will feed the 500 million new people expected to be added to the world's population by the end of the decade.'" That scenario is just one of many that Uldrich outlines in his latest book, "Foresight 20/20."
Having just returned to the U.S. from Banff, Canada where he presented to the Canola Council of Canada Annual Meeting, Uldrich will head to Indiana to keynote the Indiana Farm Bureau's Spring Meeting in Indianapolis on March 6th.
Uldrich will be the keynote speaker on Friday evening delivering his talk, "Foresight 20/20: 10 Trends Transforming Agriculture Today." Parties interested in learning more about Jack Uldrich, his books, his daily blog or his speaking availability are encouraged to visit his website.