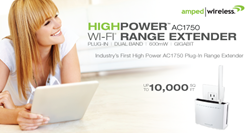 Chino Hills, CA (PRWEB) March 05, 2015
Amped Wireless, the leading manufacturer of high power, long range wireless solutions for the home and office, today announced the availability of the first of its kind, high power, ultra-fast AC1750, plug-in Wi-Fi range extender. The REC33A is easy to install, simply plug it into any wall outlet, and after a few minutes of set up it will boost Wi-Fi coverage by up to 10,000 sq ft, eliminate dead spots and improve Wi-Fi connections at ultra-fast Wi-Fi speeds never before available from a plug-in Wi-Fi range extender.
Most homes have numerous laptops and mobile devices that connect to the in-home Wi-Fi network on a daily basis, often at the same time. Power struggles ensue as one mobile device attempts to stream video, another music, while yet another downloads a game and checks email, all in different rooms in the home. Walls, appliances, ceilings and floors combined with high network demand typically create Wi-Fi dead and slow spots. But, with the REC33A, up to 10,000 square feet of additional Wi-Fi coverage can be achieved without sacrificing speed.
Designed to provide maximum power and speed for the heaviest of Internet users, the REC33A High Power AC1750 Plug-In Wi-Fi Range Extender features twelve High Power Amplifiers, one external High Gain Dual Band Antenna, two internal High Gain Dual Band Antennas and one gigabit wired port. The REC33A delivers speeds up to 450Mbps on 2.4GHZ and up to an impressive 1300Mbps on 5.0GHz.
"The REC33A gives customers a premium option to extend the Wi-Fi coverage of their existing high speed Internet connection. With the number of high end routers being sold, the REC33A is the perfect match for these high performance home or office networks," said Lacey Limbrick, Brand/Marketing Manager at Amped Wireless. "This is the first compact, plug-in Wi-Fi range extender to pack this much Wi-Fi power and speed in such a small package. We are extremely proud to be the first ones to provide AC1750 speeds, coupled with our award winning Wi-Fi range, in a discreet wall outlet design."
All Amped Wireless products include the Wi-Fi Analytics Tool App, free for Android and Windows devices to help users analyze and optimize their networks. The app allows users to fine tune their network to get the maximum speed and coverage from their device. All Amped products are also backed by industry leading, U.S. based, in-house Elite Technical Support provided by Amped Concierges. The Elite Support team is ready for calls, emails, and chats seven days a week.
The REC33A is shipping to customers now and is available online at ampedwireless.com. It will also be available at most major brick and mortar retailers and online etailers, in the weeks to follow. Visit http://www.ampedwireless.com/products/rec33a.html for more information.
About Amped Wireless
Amped Wireless is an award-winning provider of long-range, wireless consumer and business communication products for the home and office. Ranked 16th in the 2013 Inc. 500 and 1st in the Computer Hardware Industry, Amped Wireless' mission is to develop the highest quality, long-range wireless products through experience, passion, innovation and advanced technology that exceed customers' needs and expectations. For more information on Amped Wireless, The Leader in High Power Wireless Solutions™, please visit the Amped Wireless website at http://www.ampedwireless.com.