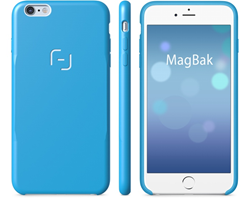 We are grateful to our loyal customers for their unwavering support, and hope to reach many more in the next 43 days.
Los Angeles, CA (PRWEB) March 05, 2015
1Lss Inc. launched its third Kickstarter Campaign, MagBak Case for iPhone - 'The World's Thinnest iPhone Mount', on March 3, 2015 at 1:30 AM with the goal of raising $15,000 over a 45 day campaign period. At 7:30 PM, a record-breaking 18 hours after kickoff, 1Lss Inc. excitedly announced that they have already surpassed their initial fundraising goal and will move forward with production!
Much of the initial campaign momentum can be attributed to the loyal support of 1Lss Inc's previous backers and existing customer base. Having successfully funded MagBak for iPad in April of 2014, the team diligently listened to the suggestions and requests of their customers both before and during the creation of their newest product, MagBak Case for iPhone.
MagBak Case for iPhone is a simple, elegant, protective case for the iPhone that encapsulates mounting capabilities without sacrificing any thinness or weight. The product is embedded with industrial strength rare earth magnets enabling the user to mount the case natively to any metal surface. For non-metal surfaces, 1Lss Inc. has designed magstick— an ultra thin magnetic stick that adheres to all surfaces so users can seamlessly mount a phone portrait or landscape.
To ensure that MagBak case for iPhone remained extremely thin, 1Lss inc. designed custom shaped magnets and placed them where they do not interfere with any regular functions of the iPhone—LTE, compass, GPS, and Wifi all operate efficiently. The product itself, measuring just over 1 mm in thickness, is made out of three layers that deliver great protection in case of a drop and comes in five colors- black, white, pink, light blue and red.
"We feel extremely fortunate to have reached our initial goal in less than 18 hours," says 1Lss Inc. co-founder Alex Baca. "We are grateful to our loyal customers for their unwavering support, and hope to reach many more in the next 43 days."
While the campaign has already sold out of their "Early Bird" Backer Reward, many other great Rewards are still available at magbak.com, so it's not too late to pre-order! Thanks to validation from Kickstarter backers worldwide, 1Lss Inc. will move into production immediately, and the product is scheduled to ship out as soon as May, 2015.
For media inquiries or to schedule an interview with Alex Baca and the 1Lss Inc. team, please contact Lexie Olson at Melrose PR at lexie(at)melrosepr(dot)com, (310)260-7901.
About 1Lss Inc.:
The mission at 1Lss Inc. is to develop beautiful, easy to use, products that improve and simplify our daily lives. Once an idea or solution to a problem it is identified, it is obsessively developed. This process continues until the result is something elegant and simple but that at the same time does not compromise in functionality. The first and second time around, the 1Lss Inc. team reached their Kickstarter goal in just a few days. They are confident that MagBak for iPhone will exceed their customers expectations on this third project, their "masterpiece."
About Kickstarter:
Kickstarter is an online funding platform for creative projects. Everything from films, games, and music to art, design, and technology. Kickstarter is full of ambitious, innovative, and imaginative projects that are brought to life through the direct support of others. Every kickstarter project creator sets their project's funding goal and deadline. If people like the project, they can pledge money to make it happen. If the project succeeds in reaching its funding goal, all backers' credit cards are charged when time expires. If the project falls short, no one is charged. Funding on Kickstarter is all-or-nothing. Since its launch in 2009, 8.1 Million people have pledged more than $1.6 Billion, funding 79,000 creative projects. Thousands of creative projects are raising funds on Kickstarter right now.