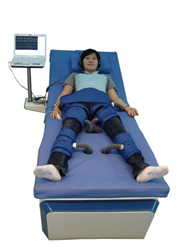 We need new options and External Counterpulsation is one of those options.
Calgary, AB (PRWEB) March 10, 2015
External Counterpulsation (ECP / EECP) therapy has been used for many years to treat patients with coronary artery disease and heart failure around the world. Dr. Gregory Barsness, a cardiologist at the Mayo Clinic, has been treating patients with ECP for over a decade. It has now made its way to Calgary's Heart Fit Clinic, so that the people of Calgary and surrounding areas can reap the benefits of this treatment without having to fly to the United States.
External Counterpulsation is a non-invasive treatment that involves wrapping large cuffs around the patient's legs. The cuffs, which resemble blood pressure cuffs, inflate and deflate at specific times between the patient's heartbeats. External Counterpulsation increases blood flow to the heart, strengthens the circulation, and offers a proven way to treat heart disease in lieu of stents or bypass surgery.
Dr. Marc Jolicoeur, from the Montreal Heart Institute, said to local news that there is a requirement for new angina treatments. "We need new options and External Counterpulsation is one of those options."
External Counterpulsation is an excellent option for patients with stable angina, and those patients who are not amenable to a heart stent or bypass surgery, or who have had a failed heart stent or bypass surgery. The biggest concern after heart surgery is restenosis. Restenosis is the recurrence of abnormal narrowing (atherosclerosis) of an artery after heart stent or bypass surgery. This unfortunately can occur anytime as heart stents and bypass surgery are not a cure. This is where External Counterpulsation can be a better option for patients who are going in for elective surgery (non-emergent) or who are presented with symptoms of heart disease. Now, this gap is filled in our healthcare system.
The Heart Fit Clinic uses all of its resources to help patients prevent and reverse heart disease. They go beyond a "band-aid" approach and focus on everything a patient can do to reverse heart disease that includes nutrition, exercise and key stress management practices.
External Counterpulsation therapy can now provide sound hope as a heart disease treatment for people with heart disease. For more information, please contact the Heart Fit Clinic.