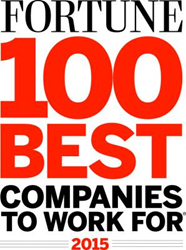 SAN FRANCISCO (PRWEB) March 05, 2015
What makes a workplace great? While everyone may answer that question differently, it is indisputable that trust, pride and camaraderie are among the key ingredients. Every year, Great Place to Work(R) and Fortune team up to identify the 100 Best Companies to Work For(C), as rated by employees. All of the companies that made this year's list, including Twitter, Nationwide Insurance and Workday, demonstrate high levels of trust between employees and management.
"It is no coincidence that the 100 best workplaces are also extremely profitable and successful companies," said China Gorman, CEO of Great Place to Work(R). "Research by our firm definitively showcases that the best places to work outperform their competitors. There is an absolute ROI when companies invest in creating a high-trust workplace culture. Great workplaces have significantly less turnover and produce employees who have a vested interest in the company."
Professional services, financial services & insurance and information technology (IT) are the industries with the largest representation on this year's list- with healthcare and retail following closely behind. Some findings from these industries include the following:

Professional services employees reported a strong sense of teamwork as well as overall respect for employees as professionals. Some challenges include continually attracting and retaining talent, as well as creating a sense of unity between those who are in-house and those who travel often.
Financial services companies on this year's list are characterized by high levels of trust--especially employees' unwavering belief in the credibility of their leaders. A challenge that was revealed is providing a sense of autonomy in such a highly regulated industry.
IT employees reported the importance of a positive workplace experience. Aside from offering notoriously "fun" environments with engaging perks and competitive paychecks, these companies empower employees to feel they are part of something new and exciting by focusing on promoting innovation, developing employee ideas, and getting those ideas to market. As for challenges, developing talent who can stay on top of a rapidly changing industry was noted.
This year's list reinforced that company leaders recognize that a strong connection between a positive employee experience and improved business outcomes exists. Whether the outcome is outstanding customer service, attracting and retaining the industry's top talent or creating superior products, efforts to become a great workplace are invariably perceived as closely tied to these business goals.
"A new type of 21st century company is emerging," said China Gorman. "It is transforming how business is done both internally and externally. It understands that having happy employees can result in higher productivity, better engagement and greater loyalty. These factors ultimately lead to a competitive advantage and enable companies to quickly bounce back from challenging situations. The 100 Best companies set the standard for businesses."
This year marks the 18th annual Fortune 100 Best Companies to Work For(R) list. Over the past 18 years, Great Place to Work(R) and Fortune have surveyed millions of employees and witnessed the transformations of hundreds of companies. This year, 14 different industries are represented in the survey along with more than 250,000 of their employees. To learn more about the methodology used in this survey, please visit http://www.greatplacetowork.com/learn-what-it-takes.
About Great Place to Work
Great Place to Work(R) is a global consulting and management training firm specializing in workplace excellence and development of high-trust organizational cultures. Its proprietary research tool, the Trust Index(C) Employee Survey is taken by over 10 million employees in 50 countries annually. Leading companies worldwide apply its Model(R) to increase the levels of trust across their organizations and drive business results. Annually, Great Place to Work(R) produces the annual Fortune 100 Best Companies to Work For (R) list and the Great Place to Work(R) Best Small and Medium Workplaces list. Follow Great Place to Work(R) online at http://www.greatplacetowork.com and on Twitter at @GPTW_US.
http://www.greatplacetowork.com/best-companies/100-best-companies-to-work-for