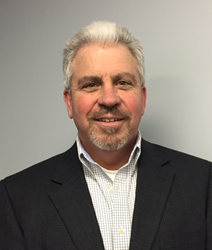 "We knew almost immediately that when Stephen came on board he was the right choice and a great fit. His knowledge and experience have been instrumental as PEI continues to grow." - Chip Lehrer, President, PEI
Milford, MA (PRWEB) March 20, 2015
Chip Lehrer, President of Photofabrication Engineering, Inc. (PEI) of Milford, MA, has announced that PEI's Board of Directors has voted Stephen Church, CPA, Vice President - Finance to be an officer of the corporation. Church has been with PEI since 2010, with responsibility for finance, human resources and general administration. In his new capacity, Church will continue with his contributions to improving performance results and will broaden his involvement supporting the board.
Prior to his arrival at PEI, Church worked for 10 years in public accounting and 20 years as Vice President – Finance for AC Technology of Uxbridge, MA. During the time he spent at AC Technology, the company grew in size from 35 employees to 350, annual sales increased from $1 million to $70 million, and the physical plant grew from 11,000 sq. ft. to 125,000 sq. ft. With the depth of experience Church offers to PEI, the board looks forward to his strategic initiatives enhancing PEI's position for continued growth.
According to PEI's President, Chip Lehrer, "We knew almost immediately that when Stephen came on board he was the right choice and a great fit. His knowledge and experience have been instrumental as PEI continues to grow."
Established in 1968, Photofabrication Engineering, Inc. is a world-famous American precision metals fabricator which has developed proprietary metal etching processes to create precision metal parts in thicknesses from 0.0005 in. to 0.125 in. The firm is ITAR compliant and holds ISO 9001:2008 and AS9100 certifications. The Precision Products Division of PEI serves myriad manufacturing industries including aerospace, automotive, battery, consumer electronics, defense, fuel cell, medical (devices and implantable), microelectronics, semiconductor, and telecommunications. The Decorative Products Division manufactures commemoratives, ornaments, plaques, and employee, donor and member recognition items for universities, churches, schools, and civic and religious organizations.
PEI is located at 500 Fortune Boulevard, Milford, MA 01757. For more information, call PEI at 508-478-2025, fax 508-478-3582, or visit PEI's web site at http://www.photofabrication.com.