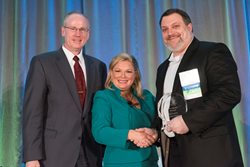 Each of (the nominees) exhibits the innovation and ingenuity for which the ISE® Awards stand...
ATLANTA, GA (PRWEB) March 05, 2015
T.E.N., a technology and information security executive networking and relationship-marketing firm, honored finalists and winners Thursday evening, March 4, at the 2015 ISE® Southeast Executive Forum and Awards Gala at the Westin Buckhead in Atlanta, GA.
Pete Chronis, chief security officer for EarthLink, was selected as the Information Security Executive® of the Year Award winner for the ISE® Southeast Region. Pete is an industry veteran with over 15 years of experience using technology to manage risk in the telecommunications, healthcare, financial and IT services industries. In the last year, Chronis has transformed the security organization at EarthLink into a security practice focused on launching new customer-facing security products that drive new revenue opportunities. Under his leadership, his team developed patent-worthy innovations, implemented platform enhancements designed to thwart massive DDoS attacks and helped customers proactively remediate high-risk security vulnerabilities that could have resulted in over 22,000 data breaches.
Darrell Keeling, director information security and quality for Brown-Forman, and Tony Spurlin, chief information security officer, Cox Automotive, were honored during the event as finalists in the executive category. Kevin Morrison, director of global security and compliance for The Results Companies won the 2015 ISE® Southeast People's Choice Award. This award represents the nominee who best exemplifies information security leadership as voted on by his peers in information security.
Jabil's "Security-as-a-Service" project was selected as the ISE® Southeast Project of the Year. Troy Riley, IT security program manager, accepted on behalf of the project. Jabil created and adopted a portfolio of security-as-a-service solutions in order to better protect and secure the company's critical information. The project – which addressed application access, data loss prevention and external threats – enabled Jabil to close security gaps, leverage its security technology and practices as a market differentiator, and create a competitive business advantage in the marketplace.
Project finalists included Belk's "Card Data Protection" and Brown-Forman's "Implementation of Identity and Access Management."
"Our judges faced a difficult challenge in evaluating such a high caliber group of executive and project nominees," said T.E.N. CEO and President Marci McCarthy. "Each of them exhibits the innovation and ingenuity for which the ISE® Awards stand and we are honored to have each and every one of join the ranks of our distinguished ISE® Alumni."
Full list of nominees can be found on the T.E.N. website:
Executive: http://www.ten-inc.com/ise/southeast/exec_nominees.asp
Project: http://www.ten-inc.com/ise/southeast/project_nominees.asp
The ISE® Southeast Awards recognize both information security executives and projects for outstanding achievements in risk management, data asset protection, compliance, privacy and network security. Award winners were selected from the U.S. Southeast region, which includes Alabama, Florida, Georgia, Kentucky, Maryland, Mississippi, North Carolina, South Carolina, Tennessee, Virginia and West Virginia. The event is made possible by kilobyte sponsors: Accuvant, Courion, HP, NetIQ, Qualys, Inc., Rapid7, RiskIQ, Symantec, Tanium and Zscaler; and display sponsors: BeyondTrust, Bromium, Cisco, Click Security, Elastica, FireEye. Identity Finder, Infoblox, Intralinks, Invincea, Novetta, Palerra, Synack, Tripwire and Varonis. Learn more online: http://ten-inc.com/ise/Southeast/default.asp
About T.E.N.
T.E.N., a national technology and security executive networking organization, facilitates peer-to-peer relationships between top executives, industry visionaries and solutions providers. Nominated for numerous industry awards, T.E.N.'s executive leadership programs enable information exchange, collaboration and decision-making. Its flagship program, the nationally-acclaimed Information Security Executive® (ISE®) of the Year Program Series and Awards, is North America's largest leadership recognition and networking program for security professionals. Other offerings include The ISE® Lions' Den and Jungle Lounge, T.E.N. Custom Programs and the ISE® Industry Expert Advisory Services, empowering IT solutions providers to gain access to highly credentialed IT business veterans' expertise. For information, visit http://www.ten-inc.com.
About ISE® Award Program Series
For more than a decade, the Information Security Executive® (ISE®) of the Year Award Program Series has empowered security executives and their project teams to Connect, Collaborate and Celebrate. Recognized as the industry's most prestigious IT Security award program, it has become the most anticipated award program for security executives and their project teams. Winners have included executives and project teams from leading organizations such as Nike, The Walt Disney Company, the United States Postal Service, Schlumberger, Texas Instruments, JPMorgan Chase & Co., Equifax, Comcast, PayPal, Northrop Grumman Corporation, and Nationwide.
Our distinguished ISE® Judges are past nominees representing a cross section of industries, including commercial, government, health care and academic sectors. For this reason, the ISE® Awards represent the best achievements of the year as evaluated by those regarded as the industry's most influential and successful thought leaders. Coupled with a one or two-day executive summit, the ISE® Awards are held across the country and Canada in major cities including Atlanta, Chicago, Dallas, New York and San Francisco. The ISE® Awards Program Series has reached more than 10,000 executives across a broad range of industries and has been a major influence in executives' careers, knowledge sharing, and the development of peer-to-peer relationships.