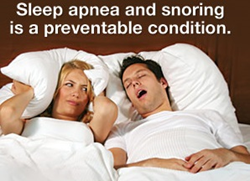 Snore no More!
Las Vegas, Nevada (PRWEB) March 04, 2015
MyCpapStore.com, an online provider of CPAP equipment and supplies, is pleased to announce that they sell quality products designed to remedy the problem of snoring. Based in Las Vegas, Nevada, this company obtains its merchandise from name-brand manufacturers, giving its customers access to products with a known history of good performance.
Sleep apnea is a common condition affecting people of all backgrounds. It is typically caused by reduced or restricted airflow. The CPAP (continuous positive airway pressure) machine is designed to provide a constant flow of positive air pressure, reducing snoring and making it a condition of the past. It is referred to by some people as the "snore no more" miracle, simply because it offers a high rate of effectiveness.
The CPAP machine is designed to pump air through a tube and into a mask worn by the patient, providing a constant flow of air that enables the individual to sleep peacefully and quietly. Through CPAP therapy, patients are able to breathe freely in order to get a good night's rest. Anyone wishing to obtain this type of equipment needs to provide a valid prescription from a licensed physician.
"Patients with sleep disorders deserve to get a good night's sleep. Snoring and the sleepless night that result are often caused by an insufficient airflow. CPAP machines are prescribed by qualified physicians to assist patients in dealing with a difficult situation. Such equipment might be labeled as snore-no-more machines since they bring about an end to the snoring that is so disruptive during sleep, not only for the patient but for anyone within hearing distance," stated a representative from the Cpap Store.
My Cpap Store sells quality CPAP machines, masks, and supplies intended to assist individuals suffering from sleeping disorders. The store sells CPAP machines, CPAP masks, CPAP humidifiers, CPAP accessories, and CPAP supplies and parts produced by a variety of manufacturers, including AirFit™, AirSense™, ClimateLineMAX™, Mirage™, Pixi™, Quattro™, and Swift™.
About My Cpap Store
Located in Las Vegas, Nevada, MyCpapStore is an online provider of CPAP machines, masks, supplies, parts, and humidifiers. All products are new, and free standard shipping is offered on all orders being sent to locations in the continental United States. As an online resource for CPAP equipment, it is in a position to ship to destinations all around the world, including international locations.
MyCpapStore.com
6130 West Flamingo #543
Las Vegas, NV 89103
702.677.2575
info(at)mycpapstore(dot)com
http://mycpapstore.com/
###