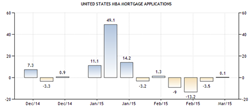 The rate on a 30-year fixed rate mortgage with an 80% loan-to-value ratio actually decreased from 3.99% to 3.96%
Chicago, IL (PRWEB) March 04, 2015
Lenders like Peoples Home Equity were shown another bleak change in weekly mortgage applications on Wednesday, March 04.
As shown on TradingEconomics.com, home loan applications rose a mere 0.1% for the week ending on February 27th. This now brings the 4 week average change in applications to -6.4% while the 12 week average is 4.3%. The discrepancy between the past 4 weeks versus the past 12 weeks highlights how weak applications have been recently.
The blamed cannot be placed on mortgage rates since they continue to trend at very attractive sub 4% levels.
The rate on a 30-year fixed rate mortgage with an 80% loan-to-value ratio actually decreased from 3.99% to 3.96%.
The decrease in rates led to the refinance index increasing 1% while the purchase index fell 0.2%. While one would imagine a strong rise in home loans application when rates fall the winter and tax season have taken a toll on home buyers. One theory for the applications slump is that Americans are still finishing their taxes to show their 2014 earnings perhaps from a new job or raise, in hopes of securing a better mortgage offering. Another theory is that there aren't enough homes available for sale. Sure there may be many home listings, but not enough inventory of specific housing that buyers are looking for, or not at the bargain prices that are desired. Worse yet, home prices keep rising because there aren't enough homes available for sale so the property search becomes even more difficult for buyers. Peoples Home Equity encourages all individuals thinking to purchase a home to submit their applications and get pre-approved for a home loan as soon as possible. The longer one waits, the less housing opportunities may present themselves. One must remember that while home builders may create more properties in the future, increasing supply, demand will also increase as a larger number of Americans are expected to get approved for home loans soon.
If in need of a mortgage, contact a Peoples Home Equity loan officer today at: 262-563-4026