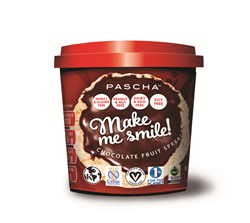 Using only the purest and most essential ingredients, the robust flavor of the cacao bean bursts through without the risk of allergic reactions
San Diego, CA (PRWEB) March 05, 2015
For PASCHA Chocolate, less is more. Using only the purest and most essential ingredients, the robust flavor of the cacao bean bursts through without the risk of allergic reactions. PASCHA Chocolate is free from peanuts, nuts, dairy, soy, eggs, fish, wheat, gluten, rice and sesame. Experience PASCHA's offering March 6th- 8th at Expo West.

NEW PASCHA Make Me Smile! Chocolate Spread. PASCHA Chocolate has broken new ground with their New PASCHA Make Me Smile! Chocolate Spread. Created for kids young and old, this spread is the answer to many allergen consumers' prayers. Free from nuts, peanuts, dairy, soy, eggs, wheat and gluten, the spread is made from concentrated fruit syrup and 100% unsweetened chocolate. Lower in fat, sugar and calories than traditional spreads, Make Me Smile! Chocolate Spread contains no hydrogenated fats or emulsifiers and is made in a dedicated Big 8 Free Facility.
NEW PASCHA Mini-Bars come in three varieties: 55% Cacao, 70% Cacao and 85% Cacao. Each is individually wrapped for convenience, allergen control and portion control. The re-sealable bag preserves freshness once opened. Intense and heavenly, these bars are the perfect healthy indulgence anytime.
PASCHA Allergen Free Chocolate Chips allow bakers to create luscious recipes without the risk of allergens. The chips are available in semi-sweet (50% Cacao), bitter-sweet (85% Cacao, and unsweetened (100% Cacao) varieties. The 100% Cacao unsweetened recipe has earned itself a HIT New Product rating from SupermarketGuru.
PASCHA's Chocolate Bars are tantalizing treats to be savored. Each of the 8 bars is unique in its own right. PASCHA's pure chocolate collection includes 55%, 70% or 85% Cacao each individually showcase the innate decadence in their simplicity. Super foods were imbued into PASCHA's other incredible bars. Ingredients like the sweet but tart Goldenberries, the creamy (non-dairy) vegetable root Maca, and Lucuma fruit, were uncovered from around the world and lend their powerful superfood properties making each bar as irresistible as they are healthy.
PASCHA's passion for purity has created new possibilities for those whose prior food allergies and intolerances that left them with little to no choices when it came to taste and complexity of eating chocolate. For those battling auto immune diseases such as diabetes, PASCHA offers an alternative healthy option where their previously was none. Recently, cocoa has been found to contain unique flavanols that improve cognitive and cardiovascular health, making PASCHA's darkest chocolates not only a treat, but also a boost for one's brain and heart as well (American Journal of Clinical Nutrition study).
Founder Simon Lester's quest for allergen free chocolate began after watching the negative effects that food allergies and intolerances had on his two daughters' lives. True to his mission, all PASCHA CHOCOLATE products are free from peanuts, nuts, dairy, soy, eggs, wheat, rice, sesame, gluten, rice and sesame. PASCHA CHOCOLATE is also certified USDA Organic, Fair Trade, Vegan, Kosher and now proudly Paleo. PASCHA is also verified NON-GMO and proudly a member of 1% For the Planet.