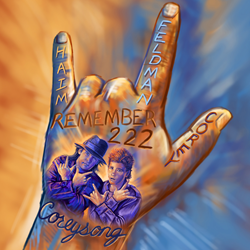 The song titled 'Remember 222' is a tribute to his best friend and former acting partner Corey Haim
Los Angeles, CA (PRWEB) March 06, 2015
Corey Feldman has a lot to celebrate this week, though it will be bittersweet. He has just announced the release of his next single and it lands at a very important date. The song titled "Remember 222" is a tribute to his best friend and former acting partner Corey Haim and will be released on March 10, 2015 which is the five year anniversary of Haim's death. There will also be a video trailer released on Feldman's YouTube channel on March 9th. Feldman feels the song is a fitting tribute to the acting duo and will bring the listener back to a happier time to make fans smile again instead of cry. Feldman is hopeful this can continue to reshape the tarnished perception of his and Haim's youth and remind people that they are one of the greatest acting/comedy pairings in entertainment history. The song also reflects on how much laughter and joy the two brought to the world and themselves.
This is reportedly the final of five singles to be released prior to his forthcoming album "Angelic 2 the Core" which is scheduled to drop this spring. "Angelic 2 the Core" is projected to be the most exciting and successful release of Feldman's musical career and is a follow up album from last year's EP release "1st Glimpse of Heaven" which featured his MTV single "Ascension Millennium". "Ascension Millennium" grew to a wild popularity in 2014 when the video gained over one million views in its first year and was even referenced on a recent episode of Glee cementing its place in pop culture history.
In other news, Feldman's current single "Everybody" feat Doc Ice has spent several weeks on the Indie Top 50 chart, the National Airplay Top 200, and sustained ten weeks on DRT Hip-Hop & R&B top 50, peaking at number thirteen for three straight weeks. "Angelic 2 the Core" will also further promote Feldman's newest brand "Corey's Angels" which was created to help talented, attractive women take the proper steps to discover and showcase their talents.
The song will be available in all major digital stores including iTunes, Amazon, Rhapsody, and Spotify, and a video of the song is expected to be released this April. For all media requests including a download of the song please contact Kerry Knight of Nati Celebrity Services at KerryKnightPR(at)gmail.com
###
http://CoreyFeldman.net
https://twitter.com/Corey_Feldman
https://www.facebook.com/CoreyFeldmanOfficial
https://www.youtube.com/channel/UC6bIZLwFSml-P5lB5I3gAGQ