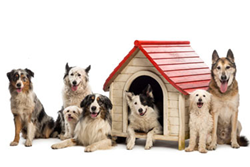 Air Pro Master Committed to treating its customers as family — and that includes its four-legged family, too.
Las Vegas, Nevasa (PRWEB) March 11, 2015
Air Pro Master, a heating, ventilation, air conditioning and plumbing company servicing Las Vegas and the surrounding areas, is excited to announce its climate-controlled pet house installation services. Air Pro Master is an environmentally friendly commercial and residential HVAC, appliance repair and plumbing service, committed to remaining customer-focused and friendly. With specialized, certified technicians, the company is looking to bolster its already impressive HVAC service lineup with services targeted toward conscientious pet owners. Air Pro Master offers air conditioning and heating solutions for pets to ensure that they remain comfortable through the temperature extremes that Las Vegas experiences.
High Temperatures in Las Vegas Could Put Animals at Risk
Temperatures in Las Vegas can fluctuate from as low as 34 degrees in the winter months to as high as 106 degrees in the peak of summer. According to the American Kennel Club, most dogs should not be in temperatures that exceed 85 degrees, which can be a challenge for pet owners who have dogs that enjoy being outside during the day. During the Las Vegas summer months, many pets may experience heat stroke — an issue which can be permanently damaging or fatal. Climate-controlled pet houses are designed to give pets an energy-efficient outside home into which they have the option of retreating. Rather than having to heat or cool their entire homes, Las Vegas pet owners can instead use an external or internal climate-controlled pet house.
Designed to Give Outdoor Pets Relief
Air Pro Master understands that in some households, it is neither possible nor desirable to keep pets indoors at all times. The HVAC designs by Air Pro Master are constructed to ensure that pets can use their climate-controlled pet houses in safety. The units are designed to keep the temperature stable inside even as the pet goes in and out, and any heating elements are contained rather than exposed, ensuring that there is no risk to the pet. By allowing the pet to go inside and outside at will, the pet is also able to control its own temperature and avoid the risk of either getting too cold or too hot. Depending on the pet, comfortable temperatures may vary.
According to Air Pro Master, existing pet houses can be retrofitted with climate control, so pet owners do not need to replace their entire housing units. These units are built to be eco-friendly and low in energy use. Air Pro Master is a company that is committed to treating its customers as family — and that includes its four-legged family, too.